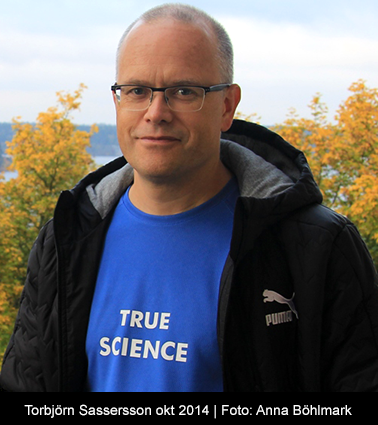 Torbjörn Sassersson (May 8, 1965-) is an award-winning freelance journalist, communications consultant, editor, lecturer, film producer, and television personality, whose areas of expertise are in IT, online PR, media content production with a special interest in societal and geopolitical changes.
During the years 1993-1995, he was working as an environmental consultant. 1995-1997 he was active within the Swedish bioenergy industry.
Since 1997 Torbjorn Sassersson has been working as a communications consultant for many big and small organizations in his own company Sasser Media Lab as a contractor. He was Web Editor in Chief at the headquarters of the Danish Bank in 2008-2009.
Torbjorn Sassersson also had a company "Smart Home Media" (1999-2002) dealing with IT homes. The company was sponsored by Swedish corporations such as Skanska.com, Provider.com, Vattenfall.com (Sensel), and Ericsson.com (BlueLabs).
In 2011 he founded NewsVoice.se a news channel publishing investigative journalism and monitoring international news for the Swedish audience.
Sassersson was one of four founders of Stockholm Group World Trade and Investments (Stockholm Group), first established as an association in 2013 and later in 2015 as a consultant company promoting trade with Swedish cleantech, transport, and energy technologies. He left Stockholm Group in May 2015 to work full time with NewsVoice. The reason for leaving the group was because Stockholm Group became a player in the Swedish arms industry.
He was featured in the documentary film "The Health Paradigm", in 2017.
Sassersson has falsely been accused by The Atlantic Council (report), the British think tank SDI Global (report) and East Stracom Task Force (Eu vs Disinfo-article) to be a part of the Kreml narratives. Several Swedish media outlets picked up the rumor and spread it widely without any fact-checking or any proof whatsoever.
Personal life
Torbjorn is married to F. Sassersson from Cameroon. They have two kids. F. Sassersson was born in a military family (based in Bamenda, Northwest Cameroon) with a direct connection within the presidential administration.
Education
Torbjorn Sassersson attended Stockholm University where he 1989-1992 studied environmental protection - Study Programme in Biology and Earth Sciences. After graduation (fil kand.) Torbjorn Sassersson studied information technology at Academedia in 1995, Stockholm. During the following years, he has gone through different IT educations pertinent to his commissions as a consultant.
On-line publications
In 2011 he founded NewsVoice.se [not NewsVoice.com] a debate and news channel publishing investigative journalism and monitoring international news for the Swedish audience. He aquired  TV Helse a health magazine and Humanism & Science (Humanismkunskap.org) in 2023.
Torbjorn Sassersson lecturer
Torbjorn Sassersson gives lectures on social media, online reputation management, web PR, and health.
Awards
"The Pen", 2016, Humanism & Science, for his work with NewsVoice
"Braveheart of the year", 2015, Soul Aid Gala i Stockholm, for his work with NewsVoice
Special skills
Due to his interest in scientific research on extrasensory perception Torbjorn Sassersson studied both theoretically and practically a mental technique called remote viewing developed by SRI International, one of the biggest think tanks in the US. He has also trained OBE's using the Monroe Institute Gateway program. Torbjorn Sassersson has been featured three times in scientific experiments on Swedish TV (two were successful).
During his military service in 1984-85 he was a crypto operator as a part of the Swedish armed forces stationed at Gotland spying on the Soviet Union.
Sport skills: PADI (Dive Master), Ju Jutsu (3 kyu), Aikido (3 kyu), Tai-Ji, Xing-i, Kendo.