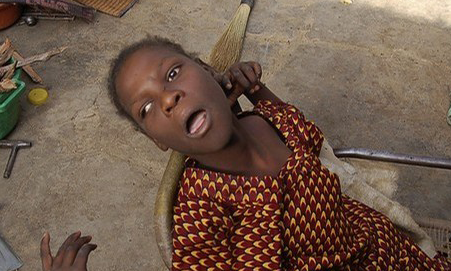 BBC. US-based big pharma giant Pfizer has made the first compensation payment to Nigerian families affected by the controversial vaccine called Trovan tested in 1996.
Text edited by Torbjorn Sassersson. Source: BBC News: 11 August 2011. Photo: Reuters, Mike Oboh
Sammanfattning: Efter en stämning på 42 miljarder kronor och undanslingrande med advokater i 15 år går Pfizer med på att betala ersättning till fyra personer som blev vaccinskadade. Totalt fick 200 personer vaccinet.
"In 1996, 11 children died and dozens were left disabled after Pfizer gave them the experimental anti-meningitis vaccine, Trovan.
Pfizer paid $175,000 (1 150 099 SEK) each to four families in the first of a series of payments it is expected to make. The payouts are part of an out-of-court settlement reached in 2009.
Victims claims maybe 200 were hurt by the vaccine but Pfizers attourneys managed to dodge the huge lawsuit during 15 years of discussions.
Picture: Fiddausi Abdullahi Madaki, 13, a victim of Pfizer's 1996 vaccine test, sits at her home in Kano October 2, 2007. A Nigerian court allowed the federal government on Wednesday to serve a summons on U.S.-based drug maker Pfizer to defend itself against a $6.5 billion lawsuit (42 miljarder SEK) over a drug trial. The federal government and the northern Nigerian state of Kano are suing Pfizer for a combined $8.5 billion in damages over the 1996 trial of Trovan, a new drug tested on children during a meningitis epidemic. Picture taken October 2, 2007."
Related articles
Related movie
The Constant Gardener - About big pharma's drug tests in Kenya
"Justin Quayle (Ralph Fiennes) meets and falls in love with outspoken humanitarian Tessa (Rachel Weisz), a beautiful young activist who persuades him to take her back with him to Kenya. But Tessa was found dead. Tessa has been murdered.
As the mystery surrounding his wife's death unfolds, Justin is radicalised in his determination to get to the bottom of his wife's murder.
He soon runs up against a drug corporation that is using Kenya's population for fraudulent testing of a tuberculosis drug ("dypraxa") with known harmful side effects and disregards the well-being of its poor African test subjects."