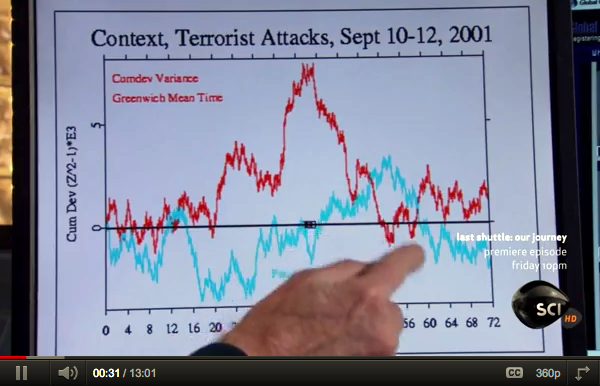 En mycket välgjord dokumentär producerad av The Science Channel om människan sjätte sinne. TV-programmet är en del av TV-serien Through the Wormhole med Morgan Freeman som värd och producent.
"This series connects the world of deep science with the beauty and wonder of the human mind – and there is no better guide for this journey than Morgan Freeman. He and his team at Revelations Entertainment are the perfect partners for this project."
– Debbie Adler Myers, general manager and executive vice president for SCIENCE
Dokumentären tar upp den vetenskapliga observationen att människans kollektiva medvetande tycks ha plockat upp attacken mot WTC i New York den 11 september 2001 innan den skedde.
Through the Wormhole Videos | Pressmeddelande om serien
https://youtube.com/watch?v=RTI-vEpboXA
https://youtube.com/watch?v=Cjopk4RL-zM
https://youtube.com/watch?v=niT4xpl3m-Y