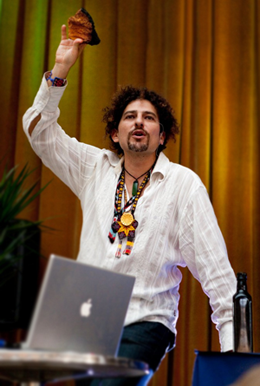 Superfoods are "natural foods and substances that are so heavily packed with nutrients and vitamins that they can be taken in small amounts while providing everything that the body needs, " so says David Wolfe, a best selling author and nutrition expert with 20 plus years of health, wellness and diet experience to his name.
Interviewer: Shervin Boloorian
An American national who founded the international Longevity Now Conference in the US, Wolfe will travel to Sweden this month (October 20-21) to deliver his first ever seminars here.

I was granted an exclusive pre-Holy Flow tour interview with Wolfe, otherwise known as "Avocado," for NewsVoice, to get some answers about his points of view, principals and plans. This is part one of a three part interview, which is being shared with NewsVoice.se segment by segment.
---
Shervin: How much time have you already spent in the countries you will visit?
David Wolfe: I've never done an event in Sweden before, so I'm very excited to get to know more about Swedes and Swedish culture. Sweden has been a pioneer in food and nutrition. It will also be my first time in Estonia. I delivered a TEDtalk in Finland last year and loved my trip to Helsinki. It was on the powerful properties of the cacao bean—you can view that on line.
Shervin: Given the conditions/ diet/ecosystems/climate of people in Northern Europe, what are the top recommendations you would emphasize for the particular lifestyle challenges there?
David Wolfe: Getting back into the medicinal mushrooms is my top recommendation given the climate and the herbs that are available there. Medicinal mushrooms, to me, are food vitality leaders; they contain Vitamin D, which is essential in the winter and very rare amongst all foods. They are very immunological—better for the immune system than any other food in the world. Aside from that, eat raw food and get connected to the magic of eating raw.
Shervin: How can Northern Europeans best deal with a lack of sunlight for many months of the year.
David Wolfe: I've lived in Canada, so I know very well about those kinds of conditions. Depression is caused by a lack of certain proteins in a person's diet. Superfoods deliver these proteins. Any natural food that is high in Omega-3 Fatty Acids can help fill that gap. Drug therapy artificially recalibrates brain chemistry, but when we turn to Superfoods, we get what we need for brain and body. That's why there's a superfood revolution happening in the Western world.
Shervin: What do you have in store for your Holy Flow Tour guests?
David Wolfe: There's going to be a series of presentations that will be partly informative and partly entertaining. I'll have catered events so people can actually experience and feel the benefits of what I'll be talking about. I'll be using pictures and video; so visuals, sounds, taste buds, light shows—we'll have all the senses covered and then there's this crazy guy in front who's an American. It's completely like a show AND you'll get some immediate tools and practices that can help strengthen bodies and minds.
Shervin: What was your last meal?
David Wolfe: I just had a delicious chocolate smoothie, I also picked some chaga mushrooms, and made a tea out of them.
Watch this space in the coming days for the next (part 2) Q and A with Wolfe, which covers the politics of living food, and visit www.davidwolfeeurope.com for more details or to purchase tickets!
Shervin Boloorian
Så här kan du stötta Newsvoice