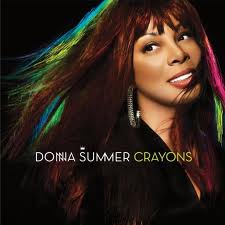 "Donna Summer, the Queen of Disco, died this morning after a battle with cancer. Donna Summer died from lung cancer and now the loss spreads across the music world. Several sources told  TZM Donna Summer contracted cancer by inhaling toxic particles after the WTC-911 attack in New York City." 
Picture: Donna Summer's last album, Crayons.
LaDonna Adrian Gaines (31 December, 1948 – 17 May, 2012) was an American singer and songwriter who gained prominence during the disco era of the 1970s. She had a mezzo-soprano vocal range, and was a five-time Grammy Award winner. Summer was the first artist to have three consecutive double albums reach number one on the US Billboard chart, and she also charted four number-one singles in the United States within a thirteen-month period. Source: Wikipedia


I kommentarsfältet har varje person ansvar för sin egen kommentar. Se reglerna
.