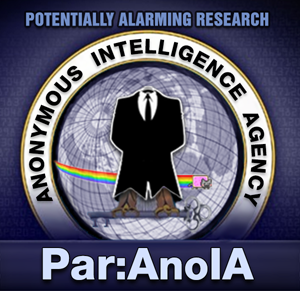 Frustrated by the lack of impact from Anonymous' otherwise famous hacks and data dumps, and the slow pace of information coming out of WikiLeaks, the Anonymous launched a WikiLeaks-like site called Par:AnoIA abbreviated from: Potentially Alarming Research: ANOnymous Intelligence.
By Quinn Norton | July 13, 2012 | WIRED
Paranoia don't gather the data; like WikiLeaks. Paranoia take submissions, but from the Anonymous community. The project was created as a response to a year of Anonymous releases where the announcement of document dumps generated plenty of media, but the documents' content got little coverage.
"The reason no one cares about these leaks, as a general rule of thumb, is that they can't do anything with [them]," said a Paranoia anon volunteering on document processing for the project in an online chat with Wired. "Basically, [we're] making it accessible to anyone that wants to do something with it, in a proper usable format."


I kommentarsfältet har varje person ansvar för sin egen kommentar. Se reglerna
.