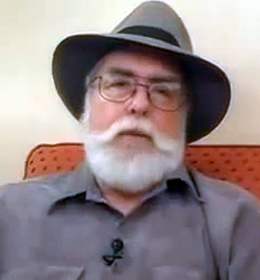 Famous Investigative Journalist and Author Jim Marrs quickly presents some key 9/11 facts.
Jim Marrs (1943-) is an American former newspaper journalist and New York Times best-selling author of books and articles on a wide range of alleged cover ups. Marrs is a prominent figure in the JFK conspiracy press and his book Crossfire was a source for Oliver Stone's film JFK.
After graduating from University of North Texas he joined the United States Army. On his release in 1968 he joined the Fort Worth Star-Telegram. He served as police reporter and general assignments reporter covering stories locally, in Europe and the Middle East. After a leave of absence to serve with a Fourth Army intelligence unit during the Vietnam War, he became military and aerospace writer for the newspaper and an investigative reporter.
Sources: Wikipedia and Spartacus.schoolnet.co.uk