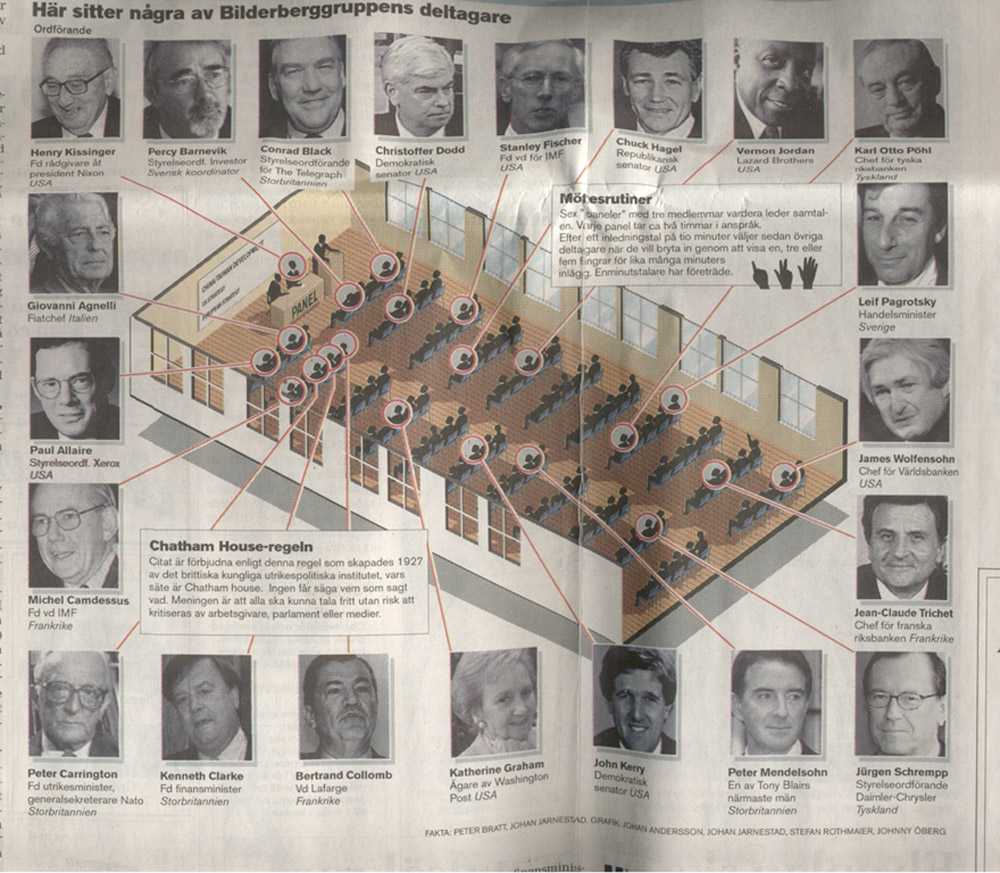 NewsVoice publicerar den officiella deltagarlistan från Bilderberggruppens 2012-möte som hölls i månadsskiftet maj-juni 2012. Mötenas existens har tidigare utpekats som en ren konspirationsteori, men under senare år har det blivit allmänt känt att dessa sker och att toppar även från svenskt näringsliv och politik varje år deltar. 
Text: Torbjörn Sassersson | Foto av DN inlänkat från Bilderberg.org. Se förstoring
Bilderberggruppen har hållit sina slutna möten i över 60 år och vad som funnits på agendan eller vad som egentligen diskuteras avslöjas aldrig. Kring mötena finns alltid en mycket hög sekretess. Mötesdeltagarna är representanter från: läkemedelsbolag, mediakoncerner, oljeindustrin, NATO, EU-kommissionen, telekombranschen, IT-industrin, vapenindustrin, toppolitiken och finansväsendet. År 2012 deltog Jonas Bonnier, VD för Bonnier AB , Gunilla Carlsson (M), biståndsminister, Jacob Wallenberg, Investor AB.
"Bilderberg handlar grundläggande om att smälta samman näringsliv och politik, så att politikerna tjänar de internationella företagen. År efter år konstaterar vi att världsmedia har belagt Bilderbergs möten med total "media blackout". Media granskar inte Bilderberg, eftersom Bilderberg äger media", skriver Tankesmedjan Mänsklighet.
Bilderberggruppens sekretariat menar att deras konferenser är: "…private in order to encourage frank and open discussion", men när några av Västvärldens mäktigaste människor träffas borde självklart diskussionsinnehållet publiceras, om det är för allmänhetens bästa. Det påstås att under mötena tas inga geopolitiska beslut. Istället är syftet med mötena betydigt mer subtilt.
Det egentliga syftet med de årliga mötena bakom lyckta dörrar sägs vara att genom lobbyism skapa ett artificiellt konsensus för att linjera mötesdeltagarna mot vissa geopolitiska mål, varav det viktigaste går under benämningen "globalisering", ett vagt ord.
Ett annat ord för globalisering påstås vara "the new world order", vilket innebär en realisering av ett centraliserat styrsätt ämnat för hela världens politik, ekonomi och ideologi. Det betyder en världsregering, en global valuta, en världsdomstol, en världsbank, en världshälsoorganisation samt en världsideologi som stavas ateism eller sekulär humanism. Naturvetenskapen ska ersätta tron på gudar och utgöra centralljuset.
Allt detta skulle kunna vara något mycket positivt under förutsättning att drivkrafterna hos mötesdeltagarna är befriad från allt maktsökande, alla osunda kontrollbehov och vanlig girighet. Denna "globalisering" skulle kunna vara något oerhört positivt och engagerande om Bilderberggruppens möten vore en öppen demokratisk aktivitet med fri insyn. "Problemet" är att demokrati etymologiskt betyder folkvälde och det är inte möjligt när en hel värld ska styras upp. Det är för många kockar i en tillämpad och världsomspännande direktdemokrati, anser man.
Så här skriver engelskspråkiga Wikipedia om Bilderberggruppen:
"The original conference was held at the Hotel de Bilderberg, near Arnhem in the Netherlands, from 29 to 31 May 1954. It was initiated by several people, including Polish politicians Józef Retinger and Andrew Nielsen, concerned about the growth of anti-Americanism in Western Europe, who proposed an international conference at which leaders from European countries and the United States would be brought together with the aim of promoting Atlanticism – better understanding between the cultures of the United States and Western Europe to foster cooperation on political, economic, and defense issues."
Dessa uppgifter kan alltså eventuellt motsäga teorin om att Bilderberggruppen diskuterar globaliseringen.
De som är skeptiska till de som kritiserar Bilderbergruppens möten menar att västvärldens toppskikt måste få träffas under lugna former och diskutera ostört bortom press och media. Frågan är bara varför mediakonglomerat deltar med eget folk som sedan inte får yppa vad som diskuteras.
Tankesmedjan Mänsklighet har kontaktat Jonas Bonnier och bett honom att kommentera sitt deltagande i Bilderbergs möte 2012 och hur han ser på sitt deltagande när det gäller Bonniers mediamonopol i Sverige, vilket är unikt i världen. Inget annat land har tillåtit ett sådant mediamonopol, vilket tankesmedjan betraktar som ett allvarligt demokratiskt problem. Tankesmedjan har även bett den svenske konungen (nära vän till Bonniers) att kommentera sitt deltagande, men hovet vill inte kommentera.
Officiell deltagarlista, Bilderbergs årliga möte 2012
Chairman
FRA
Castries, Henri de
Chairman and CEO, AXA Group
DEU
Ackermann, Josef
Chairman of the Management Board and the Group Executive Committee, Deutsche Bank AG
GBR
Agius, Marcus
Chairman, Barclays plc
USA
Ajami, Fouad
Senior Fellow, The Hoover Institution, Stanford University
USA
Alexander, Keith B.
Commander, US Cyber Command; Director, National Security Agency
INT
Almunia, Joaquín
Vice-President – Commissioner for Competition, European Commission
USA
Altman, Roger C.
Chairman, Evercore Partners
PRT
Amado, Luís
Chairman, Banco Internacional do Funchal (BANIF)
NOR
Andresen, Johan H.
Owner and CEO, FERD
FIN
Apunen, Matti
Director, Finnish Business and Policy Forum EVA
TUR
Babacan, Ali
Deputy Prime Minister for Economic and Financial Affairs
PRT
Balsemão, Francisco Pinto
President and CEO, Impresa; Former Prime Minister
FRA
Baverez, Nicolas
Partner, Gibson, Dunn & Crutcher LLP
FRA
Béchu, Christophe
Senator, and Chairman, General Council of Maine-et-Loire
BEL
Belgium, H.R.H. Prince Philippe of
TUR
Berbero?lu, Enis
Editor-in-Chief, Hürriyet Newspaper
ITA
Bernabè, Franco
Chairman and CEO, Telecom Italia
GBR
Boles, Nick
Member of Parliament
SWE
Bonnier, Jonas
President and CEO, Bonnier AB
NOR
Brandtzæg, Svein Richard
President and CEO, Norsk Hydro ASA
AUT
Bronner, Oscar
Publisher, Der Standard Medienwelt
SWE
Carlsson, Gunilla
Minister for International Development Cooperation
CAN
Carney, Mark J.
Governor, Bank of Canada
ESP
Cebrián, Juan Luis
CEO, PRISA; Chairman, El País
AUT
Cernko, Willibald
CEO, UniCredit Bank Austria AG
FRA
Chalendar, Pierre André de
Chairman and CEO, Saint-Gobain
DNK
Christiansen, Jeppe
CEO, Maj Invest
RUS
Chubais, Anatoly B.
CEO, OJSC RUSNANO
CAN
Clark, W. Edmund
Group President and CEO, TD Bank Group
GBR
Clarke, Kenneth
Member of Parliament, Lord Chancellor and Secretary of Justice
USA
Collins, Timothy C.
CEO and Senior Managing Director, Ripplewood Holdings, LLC
ITA
Conti, Fulvio
CEO and General Manager, Enel S.p.A.
USA
Daniels, Jr., Mitchell E.
Governor of Indiana
USA
DeMuth, Christopher
Distinguished Fellow, Hudson Institute
USA
Donilon, Thomas E.
National Security Advisor, The White House
GBR
Dudley, Robert
Group Chief Executive, BP plc
ITA
Elkann, John
Chairman, Fiat S.p.A.
DEU
Enders, Thomas
CEO, Airbus
USA
Evans, J. Michael
Vice Chairman, Global Head of Growth Markets, Goldman Sachs & Co.
AUT
Faymann, Werner
Federal Chancellor
DNK
Federspiel, Ulrik
Executive Vice President, Haldor Topsøe A/S
USA
Ferguson, Niall
Laurence A. Tisch Professor of History, Harvard University
GBR
Flint, Douglas J.
Group Chairman, HSBC Holdings plc
CHN
Fu, Ying
Vice Minister of Foreign Affairs
IRL
Gallagher, Paul
Former Attorney General; Senior Counsel
USA
Gephardt, Richard A.
President and CEO, Gephardt Group
GRC
Giannitsis, Anastasios
Former Minister of Interior; Professor of Development and International Economics, University of Athens
USA
Goolsbee, Austan D.
Professor of Economics, University of Chicago Booth School of Business
USA
Graham, Donald E.
Chairman and CEO, The Washington Post Company
ITA
Gruber, Lilli
Journalist – Anchorwoman, La 7 TV
INT
Gucht, Karel de
Commissioner for Trade, European Commission
NLD
Halberstadt, Victor
Professor of Economics, Leiden University; Former Honorary Secretary  General of Bilderberg Meetings
USA
Harris, Britt
CIO, Teacher Retirement System of Texas
USA
Hoffman, Reid
Co-founder and Executive Chairman, LinkedIn
CHN
Huang, Yiping
Professor of Economics, China Center for Economic Research, Peking University
USA
Huntsman, Jr., Jon M.
Chairman, Huntsman Cancer Foundation
DEU
Ischinger, Wolfgang
Chairman, Munich Security Conference; Global Head Government Relations, Allianz SE
RUS
Ivanov, Igor S.
Associate member, Russian Academy of Science; President, Russian International Affairs Council
FRA
Izraelewicz, Erik
CEO, Le Monde
USA
Jacobs, Kenneth M.
Chairman and CEO, Lazard
USA
Johnson, James A.
Vice Chairman, Perseus, LLC
USA
Jordan, Jr., Vernon E.
Senior Managing Director, Lazard
USA
Karp, Alexander
CEO, Palantir Technologies
USA
Karsner, Alexander
Executive Chairman, Manifest Energy, Inc
FRA
Karvar, Anousheh
Inspector, Inter-ministerial Audit and Evaluation Office for Social, Health, Employment and Labor Policies
RUS
Kasparov, Garry
Chairman, United Civil Front (of Russia)
GBR
Kerr, John
Independent Member, House of Lords
USA
Kerry, John
Senator for Massachusetts
TUR
Keyman, E. Fuat
Director, Istanbul Policy Center and Professor of International Relations, Sabanci University
USA
Kissinger, Henry A.
Chairman, Kissinger Associates, Inc.
USA
Kleinfeld, Klaus
Chairman and CEO, Alcoa
TUR
Koç, Mustafa
Chairman, Koç Holding A.?.
DEU
Koch, Roland
CEO, Bilfinger Berger SE
INT
Kodmani, Bassma
Member of the Executive Bureau and Head of Foreign Affairs, Syrian National Council
USA
Kravis, Henry R.
Co-Chairman and Co-CEO, Kohlberg Kravis Roberts & Co.
USA
Kravis, Marie-Josée
Senior Fellow, Hudson Institute
INT
Kroes, Neelie
Vice President, European Commission; Commissioner for Digital Agenda
USA
Krupp, Fred
President, Environmental Defense Fund
INT
Lamy, Pascal
Director-General, World Trade Organization
ITA
Letta, Enrico
Deputy Leader, Democratic Party (PD)
ISR
Levite, Ariel E.
Nonresident Senior Associate, Carnegie Endowment for International Peace
USA
Li, Cheng
Director of Research and Senior Fellow, John L. Thornton China Center, Brookings Institution
USA
Lipsky, John
Distinguished Visiting Scholar, Johns Hopkins University
USA
Liveris, Andrew N.
President, Chairman and CEO, The Dow Chemical Company
DEU
Löscher, Peter
President and CEO, Siemens AG
USA
Lynn, William J.
Chairman and CEO, DRS Technologies, Inc.
GBR
Mandelson, Peter
Member, House of Lords; Chairman, Global Counsel
USA
Mathews, Jessica T.
President, Carnegie Endowment for International Peace
DEN
Mchangama, Jacob
Director of Legal Affairs, Center for Political Studies (CEPOS)
CAN
McKenna, Frank
Deputy Chair, TD Bank Group
USA
Mehlman, Kenneth B.
Partner, Kohlberg Kravis Roberts & Co.
GBR
Micklethwait, John
Editor-in-Chief, The Economist
FRA
Montbrial, Thierry de
President, French Institute for International Relations
PRT
Moreira da Silva, Jorge
First Vice-President, Partido Social Democrata (PSD)
USA
Mundie, Craig J.
Chief Research and Strategy Officer, Microsoft Corporation
DEU
Nass, Matthias
Chief International Correspondent, Die Zeit
NLD
Netherlands, H.M. the Queen of the
ESP
Nin Génova, Juan María
Deputy Chairman and CEO, Caixabank
IRL
Noonan, Michael
Minister for Finance
USA
Noonan, Peggy
Author, Columnist, The Wall Street Journal
FIN
Ollila, Jorma
Chairman, Royal Dutch Shell, plc
USA
Orszag, Peter R.
Vice Chairman, Citigroup
GRC
Papalexopoulos, Dimitri
Managing Director, Titan Cement Co.
NLD
Pechtold, Alexander
Parliamentary Leader, Democrats '66 (D66)
USA
Perle, Richard N.
Resident Fellow, American Enterprise Institute
NLD
Polman, Paul
CEO, Unilever PLC
CAN
Prichard, J. Robert S.
Chair, Torys LLP
ISR
Rabinovich, Itamar
Global Distinguished Professor, New York University
GBR
Rachman, Gideon
Chief Foreign Affairs Commentator, The Financial Times
USA
Rattner, Steven
Chairman, Willett Advisors LLC
CAN
Redford, Alison M.
Premier of Alberta
CAN
Reisman, Heather M.
CEO, Indigo Books & Music Inc.
DEU
Reitzle, Wolfgang
CEO & President, Linde AG
USA
Rogoff, Kenneth S.
Professor of Economics, Harvard University
USA
Rose, Charlie
Executive Editor and Anchor, Charlie Rose
USA
Ross, Dennis B.
Counselor, Washington Institute for Near East Policy
POL
Rostowski, Jacek
Minister of Finance
USA
Rubin, Robert E.
Co-Chair, Council on Foreign Relations; Former Secretary of the Treasury
NLD
Rutte, Mark
Prime Minister
ESP
Sáenz de Santamaría Antón, Soraya
Vice President and Minister for the Presidency
NLD
Scheffer, Paul
Professor of European Studies, Tilburg University
USA
Schmidt, Eric E.
Executive Chairman, Google Inc.
AUT
Scholten, Rudolf
Member of the Board of Executive Directors, Oesterreichische Kontrollbank AG
FRA
Senard, Jean-Dominique
CEO, Michelin Group
USA
Shambaugh, David
Director, China Policy Program, George Washington University
INT
Sheeran, Josette
Vice Chairman, World Economic Forum
FIN
Siilasmaa, Risto
Chairman of the Board of Directors, Nokia Corporation
USA
Speyer, Jerry I.
Chairman and Co-CEO, Tishman Speyer
CHE
Supino, Pietro
Chairman and Publisher, Tamedia AG
IRL
Sutherland, Peter D.
Chairman, Goldman Sachs International
USA
Thiel, Peter A.
President, Clarium Capital / Thiel Capital
TUR
Timuray, Serpil
CEO, Vodafone Turkey
DEU
Trittin, Jürgen
Parliamentary Leader, Alliance 90/The Greens
GRC
Tsoukalis, Loukas
President, Hellenic Foundation for European and Foreign Policy
FIN
Urpilainen, Jutta
Minister of Finance
CHE
Vasella, Daniel L.
Chairman, Novartis AG
INT
Vimont, Pierre
Executive Secretary General, European External Action Service
GBR
Voser, Peter
CEO, Royal Dutch Shell plc
SWE
Wallenberg, Jacob
Chairman, Investor AB
USA
Warsh, Kevin
Distinguished Visiting Fellow, The Hoover Institution, Stanford University
GBR
Wolf, Martin H.
Chief Economics Commentator, The Financial Times
USA
Wolfensohn, James D.
Chairman and CEO, Wolfensohn and Company
CAN
Wright, Nigel S.
Chief of Staff, Office of the Prime Minister
USA
Yergin, Daniel
Chairman, IHS Cambridge Energy Research Associates
INT
Zoellick, Robert B.
President, The World Bank Group
Rapporteurs
GBR
Bredow, Vendeline von
Business Correspondent, The Economist
GBR
Wooldridge, Adrian D.
Foreign Correspondent, The Economist
Source: www.bilderbergmeetings.org
---
Relaterat
The Guardian: Who pulls the strings?
The Guardian: Weekend break for the global elite (från mötet i Sverige, 2011) (deltagare)
DN: Secret Meetings for Almost 50 years (översättning)