---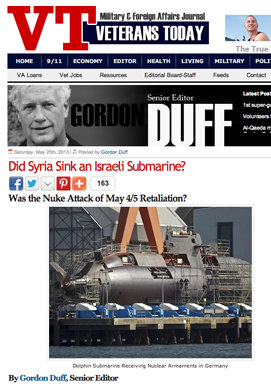 Veterans Today. This war began at 2:30AM on May 2, 2013 with the sinking of an Israeli manned German Dolphin submarine that was supporting commando infiltration off the Syrian coast. The sub was spotted, submerged to 150 meters and was hit by a sophisticated guided torpedo.
Disclaimer: Veterans Today's editor (Gordon Duff) claims the e-zine contains 30% false information
Syrian helicopters remained over the site of the naval disaster until a Russian flotilla arrived, escorting a salvage ship to secure the nuclear-tipped Tomahawk cruise missiles onboard.

In retaliation, Israel began an artillery bombardment of Syrian positions outside Damascus on May 4. During that bombardment, an Israeli submarine off the coast of Lebanon launched a nuclear cruise missile. High resolution video from fifteen miles away clearly identifies the massive flash, the telltale mushroom cloud and the lightning, leaving no doubt that this was a nuclear attack.

The explosion was picked up by American Vela satellites and confirmed.
Text: Gordon Duff, Veterans Today
---
"The American press is continually filled with one wildly inaccurate and conspiratorial monstrosity after another, each one quickly proven false. The stories that are proven true, the Syrian rebels' "rape squads" kidnapping and murdering young women and girls in the occupied zones of Syria are censored."
"The American press is continually filled with one wildly inaccurate and conspiratorial monstrosity after another, each one quickly proven false. The stories that are proven true, the Syrian rebels' "rape squads" kidnapping and murdering young women and girls in the occupied zones of Syria are censored."
---