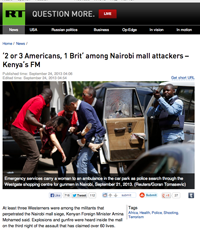 RT.com. At least three Westerners were among the militants that perpetrated the Nairobi mall siege, Kenyan Foreign Minister Amina Mohamed said. Explosions and gunfire were heard inside the mall on the third night of the assault that has claimed over 60 lives.
Latest reports of shooting come after the interior ministry assured the public that its forces were "in control" of the situation, after freeing all hostages. The gun shots were accompanied by an explosion and followed by security forces carrying a body out of the mall, the AP reports.
"Two or three Americans" and "one Brit" were among the perpetrators, Mohamed said in a Monday interview with PBS Newshour. The Americans of Somali or Arab origins were 18 to 19 years old and resided "in Minnesota and one other place." The suspected British extremist who participated in an attack was a female who has "done this many times before," the minister added.
But the country's interior minister, Joseph Ole Lenku, denied reports that insurgents were women. "All the terrorists are men," he said, adding that "Some of them had dressed like women."
Yet one intelligence officer and two soldiers told Reuters that one of the dead militants was a white woman known as the 'white widow.'