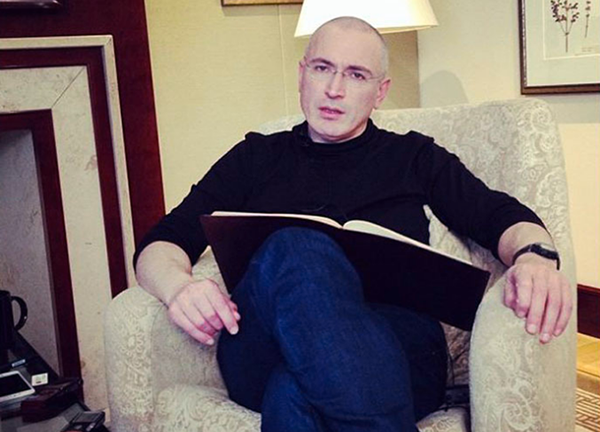 RT.com. After a decade in prison, Mikhail Khodorkovsky hasn't changed his liberal views on Russia and preserved his ideals and convictions, political consultant Alexander Rahr told RT.
Photo: A handout picture released by Newtimes.ru on December 21, 2013 shows Mikhail Khodorkovsky during his first interview after his release with the editor in chief of the Russian weekly newspaper 'Newtimes', Yevgenia Albats (not pictured), in the hotel 'Adlon' in Berlin, Germany. (AFP/Newtimes.ru)
"Khodorkovsky is still in a very determined mood, but is unlikely to become involved in politics as he now sees himself as a philosopher who has much to say about the present and future of Russia to any who want to listen, Rahr believes."
RT: Can you, please, explain what was your role in Mikhail Khodorkovsky's release from prison?
Alexander Rahr: "Approximately two or two-and-a-half years ago, Hans-Dietrich Genscher, who was my boss in the German Council on Foreign Relations, asked me to join him in a very special mission, as a consultant. He explained to me that this was a mission, which will be conducted through diplomatic secret channels between Germany and Russia and the intention is to try to free Khodorkovsky, to get Khodorkovsky released. He was asked by the Khodorkovsky's lawyers to start this mission, but Genscher was also very close – while implementing this mission – with the Chancellor's office, with Mrs. [Angela] Merkel, with minister of foreign affairs [Guido] Westerwelle, with the German embassy in Moscow. So, he had many tools, which he used in order to accomplish this mission."
"My role was secondary. I was consulting him on issues concerning Russian politics, Russian politicians, where he wanted my consultations. And I also helped him in translating certain documents, letters from Russia, into English, which he didn't want to show to other people."
Read complete interview on RT.com
Facts: Mikhail Borisovich Khodorkovsky born 26 June 1963) is a Russian businessman, an oligarch, a philanthropist, a public figure and an author.