---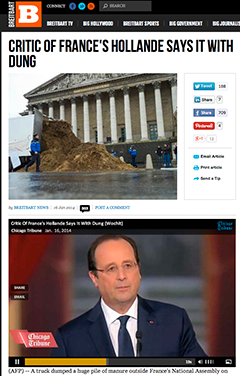 A truck driver dumped a massive pile of dung outside France's National Assembly today in protest of the political elite, reports Agence France-Presse.
The driver of the truck — which was marked with the slogan "Out with Hollande and the whole political class!" — was apprehended by police shortly after releasing his smelly load outside the front gates of the grand Palais Bourbon that hosts the lower house Assembly, writes Breitbart.com
---

I kommentarsfältet har varje person ansvar för sin egen kommentar. Se reglerna.
Donera gärna till NewsVoice, en gratistidning som är beroende av läsarnas stöd.