---
Denna nyhet publicerades redan 19 maj 2014, men är så intressant att den fortfarande är aktuell.
---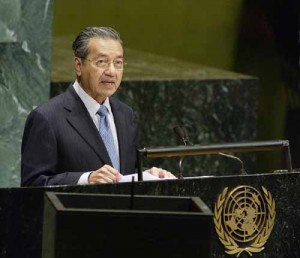 The former Malaysian Prime Minister accused the C.I.A., Boeing and the media of covering up crucial facts about the missing plane.
Text: TIME | Photo: Wikimedia Commons
A former Malaysian leader on Sunday accused American intelligence agents of covering up what really happened to the Malaysia Airlines plane missing since March.
Former Prime Minister Mahathir Mohamad claimed that Flight 370, which disappeared on March 8 with 239 people on board, claimed that the CIA could have taken control of the Boeing 777, and lamented that the Malaysian government is bearing the brunt of the blame for a mystery that sparked a massive, expensive and as-of-yet unsuccessful international search for the plane.
---