---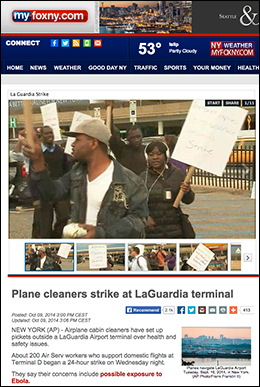 About 200 Air Serv workers who support domestic flights at Terminal D began a 24-hour strike on Wednesday night. They say their concerns include possible exposure to Ebola.
More than 200 cabin cleaners working at New York's LaGuardia Airport walked off the job on Wednesday in protest of what they say are poor working conditions.

Citing the escalating Ebola scare as the straw that broke the camel's back, the employees of Air Serv, which contracts with major airlines to clean their planes between flights, say they refuse to clean blood, vomit and other possibly contaminated bodily fluids without adequate protection.
---