---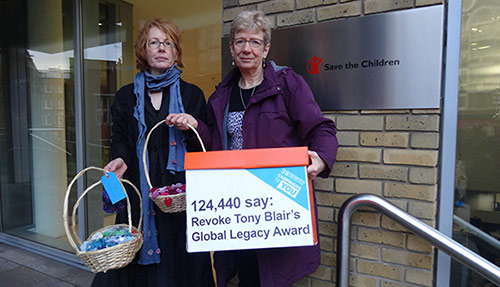 I walked down to the Save the Children offices accompanied by Miranda Landgraf and Robin Priestley from 38 Degrees to deliver the petition to the offices of Save the Children UK on Tuesday 13th January 2015. 
By Miranda Pinch
We had a private meeting with Brendan Cox, director of Policy and Advocacy who listened and responded well although we all had to agree that it was now impossible to remove the award [Global Legacy Award] from Tony Blair, especially as the award was from the semi autonomous USA branch of the charity. However, Brendon did agree that it had been a misjudgement on Justin Forsyth's part not to challenge the choice of recipient for their award or inform his staff, and that communication and consultation between members of the Save the Children Fund Global federation needs to be improved so that such internationally damaging choices are not repeated.
We had a brief debate about the differences in the perception of Tony Blair and policy in the Middle East compared to that of the UK branch, as well as the shortfall in our own UK government's response to the current humanitarian crisis in Gaza and the overall political situation of occupation and oppression.
Miranda Landgraf handed Brendon the three baskets of crocheted flowers (490 altogether) that she had brought with her. Each flower has the name and age, where known, of a child victim in Gaza. Countless more flowers could have been produced to represent so many more of the innocent children that have died across the Middle East under Blair's watch in his various roles. Rather too many for one person to create.
Many of those who signed this petition had voted that Malala Yousafzai be put forward for a future award and I suggested  Ebola nurse William Pooley. Unfortunately it is not clear if the award is an annual event, but our suggestions will be forwarded to them.
Brendon Cox agreed to make a public statement about the error of judgement made by Justin Forsyth and to address some of our other points. We explained that we were not out to damage Save the Children UK , but rather to help them regain the trust of those who have so generously supported them over the years.
In the circumstances the outcome was as positive as was possible and some good has been achieved. Hopefully such a situation will not happen again and communication will be improved all round.
By Miranda Pinch
Related
The Guardian: "Save the Children staff furious over 'global legacy' award for Tony Blair"
Independent: "David Cameron mocks Tony Blair over Save the Children 'global legacy' award"
Så här kan du stötta Newsvoice