So how dangerous is Tokyo today? It's one tough question to answer. As a father of three children and being a motorcycle racer who is required to be fit, I will never ever go back to Tokyo even if I keep my family in Sweden and travel alone.
By Toru Bové (all articles) | Toru's Facebook profile
If you are responsible and want to be healthy enough to look after your family for a long time, Tokyo is one of the last places on Earth to visit. You may be able to bring water and food from home, but you can't bring enough clean air with you.
If you smoke, drink, eat badly and don't care about your future health five years from now, I don't have any motive to tell you to not to go. But, if you are young and have a good chance to have your own children in the future or if you already have some small ones, don't ever think about going to Tokyo.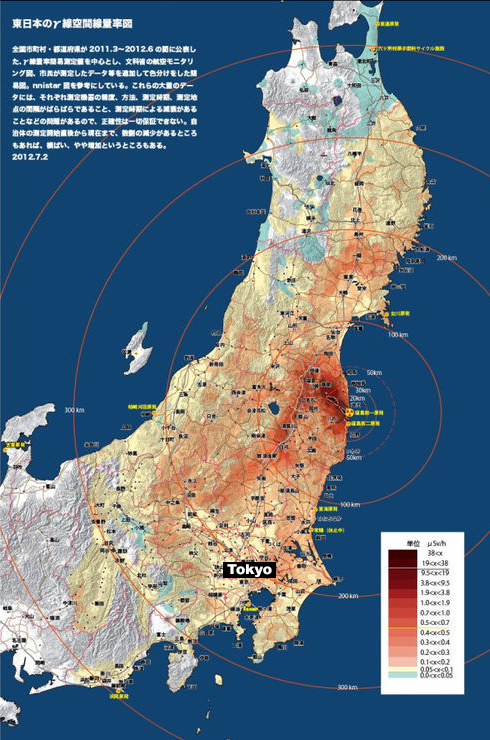 Map: Japanese government
Tokyo soil samples would be considered nuclear waste in the US
Popular whistleblower, Mr. Arnold Gundersen collected five soil samples in Tokyo, when he visited Japan the first time after Fukushima. He commissioned a lab to analyze the samples. The results were shocking. All of them were qualified as radioactive waste in US standards. Still today, people in Tokyo are living and walking on contaminations at the same level as radioactive waste.
In Sweden – by the way – some Swedish people think that radioactive waste would be safe if buried deep underground for 100,000 years, but I totally oppose this idea.
Source: Fairewinds.org
X-ray images "witnesses" to Fukushima nuclear accident
Within the 300 km zone, a number of hospital reported that they had black dots and shadows on x-ray images. Later a x-ray equipment company explained that those were caused by radioactive particles from Fukushima.
Please think about it.
X-ray equipment is located inside of hospital buildings. As it's nature, it is kept in isolated rooms for safety reason. Nevertheless radioactive gas and particles released by Fukushima were able to reach x-ray equipment and films. [Ref: local doctor and Fuji Film announcement]
There are a number of doctors and nurses who had dedicated their work to help people within the Tokyo zone who now leave Tokyo to move to the south. They are the people who witnessed reality and they say they stayed too long in the danger zone. [Ref: Tokyo Contaminated And Not Fit For Habitation, Doctor Says]
DID YOU FIND THIS ARTICLE USEFUL?
Please feel free to donate a dollar to NewsVoice (Sasser Media Lab). One dollar equals about 6 SEK (Swedish Crowns).
50 million people had their homeland contaminated badly one way or other. The rest of the nation, 70 million people, are subject to mainstream media repeating: "eat as usual and support Fukushima". In reality they have no idea how safe, or dangerous, foods they buy and eat are.
Japan lifted food safety guidelines for radioactive contamination. The food industry, including farming and fishing, have been trying their best they can to "clear" this new guideline; 100 bq/kg though that is still much lower than the EU limit which is another controversy. There are many loopholes and wrong doings they use to keep selling their products. Whatever people say, here are the undeniable facts with Fukushima.
Still today, the world don't have the technology to take out melted fuel from the power plant near Fukushima. There is a story about the time required to clean up Fukushima. It says, 200 years. In 2013, Japan government stated that Fukushima can be shut down in 40 years, and we thought it was a joke. Now, 200 years and nobody in the world don't even know where three melted-down-fuels are.
In February 2015, the Japan prime minister Abe welcomed Prince William of England on a special dinner course full of Fukushima food. We just shook our heads.
The nightmare continues…
By Toru Bové


Så här kan du stötta Newsvoice