Peter C. Gøtzsche, MD is a Danish medical researcher, and leader of the Nordic Cochrane Center at Rigshospitalet in Copenhagen, Denmark. He has written numerous reviews within the Cochrane collaboration. Gøtzsche was interviewed by John McDougall a board-certified Internist.
McDougal summarize:
Dr.Gøtzsche has been critical of screening for breast cancer using mammography, arguing that it cannot be justified; His critique stems from a meta-analysis he did on mammography screening studies and published as Is screening for breast cancer with mammography justifiable? in The Lancet in 2000. In it he discarded 6 out of 8 studies arguing their randomization was inadequate.

In 2006 a paper by Gøtzsche on mammography screening was electronically published in the European Journal of Cancer ahead of print. The journal later removed the paper completely from the journal website without any formal retraction. The paper was later published in Danish Medical Bulletin with a short note from the editor, and Gøtzsche and his coauthors commented on the unilateral retraction that the authors were not involved in.

In 2012 his book Mammography Screening: Truth, Lies and Controversy was published. In 2013 his book Deadly Medicines and Organized Crime: How Big Pharma has Corrupted Healthcare was published.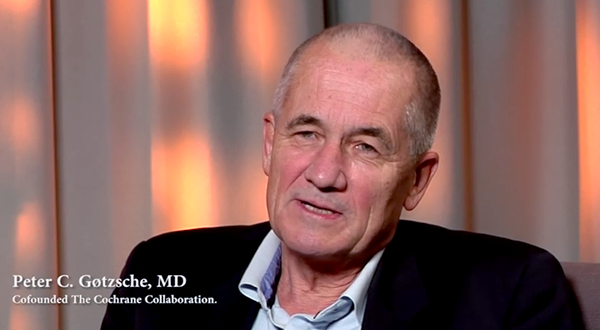 John McDougall (interviewer) is a board-certified Internist who has personally cared for more than 5,000 patients at his world-renowned live-in program in Santa Rosa, CA. His simply practice of using a low-fat, starch-based diet has a broad range of dramatic and lasting health benefits, including weight (fat) loss and reversing serious illnesses, such as heart disease, type-2 diabetes, and arthritis without drugs.
John McDougall's You Tube channel and web site: drmcdougall.com