The African continent is one of the most resourceful areas in the world. Here we can find the majority of health plants used to manufacture health products but still a large number of people die every day of illnesses due to the lack of treatment, no health facilities and the increasing influence of Western medical products that are often found to be harmful. These factors are to be considered for a proper evaluation of the healthcare situation in Africa.
By Lilian Neg, Africa-Cameroon correspondent | Contact Lillian: Facebook.com for book and lecture inquiries | More articles by Lillian Neg | Photo: Torbjorn Sassersson
Goof treatments, health facilities and patients themselves are not given to much attention in African hospitals. Patients are neglected because they do not have funds for their own treatments. The situation is so pathetic that, in March, a woman carrying twin babies died in Cameroon because doctors refused to give her proper medical care. She was left dying on the sidewalk just outside a hospital and her relatives tried to give birth using a razor blade.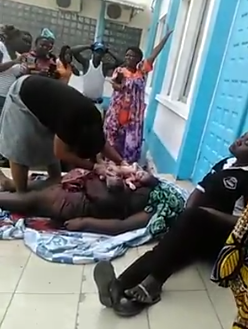 Read more: Twins cut out of dead mother with razorblades on street leads to public outcry in Cameroon (The Independent) | Photo: Cameroon, Public Domain
A week after, March 22 another women in Yaoundé lost quintuplets (five fetuses) because of absence of incubators in the pediatric department of the health establishment.
Ebola
Less than one year ago when the Ebola virus was still actively propagated in Liberia, Guinea and Sierra Leone children, women and men were condemned to death because there was no other alternative method proposed to them to stop the virus.
No vaccines capable to save them, and if there were any possibility, the western laboratories emphasized that the treatment were to be given to European doctors who was engaged in the fight. This is why at the end of the epidemic in Guinea, the Ebola virus officially caused approximately 2536 cases of deaths out of totally 3804 cases according to a press release by the World Health Organization
The Ebola virus is one of the worst identified viruses in Africa, particular in Congo where the virus began in 1976 and caused more than 11300 deaths of 29.000 cases during several years.
That is why diseases still cause damages in Africa more than on any other continent. The medical coverage in Africa is equally poor, due to absence of medical structures, infrastructures and qualified African doctors. After medical training in Europe doctors prefer regularly to grant their services to the Western world and therefore neglect the African populations.
Western medical products in Africa
Many years ago, it was a privilege in Africa to be considered amongst those who were vaccinated or immunized. This statement is becoming more and more a subject of debate. Some practitioners have done investigations and proved that the Western chemical industries are causing great harm.
Children from birth to 5 years of age in Africa are receiving vaccines under uncontrollable circumstances. Some vaccines that are given to children in Africa have not been used in Europe or need additional experimentation before entering the European market. At times these drugs have paralyzed people. After children were vaccinated in 1975 in Africa a majority become victims of malformations. It was a severe disaster.
"The omitted data suggested that African American males who received the MMR vaccine before age 36 months were at increased risk for autism". – CDC Senior Scientist Dr. William Thompson, 2015 – Source: CDC Scientist: 'We scheduled meeting to destroy vaccine-autism study documents'
Some people think that getting medicines from Europe is safe. It is very unfortunate because in Africa we may find many medical plants suitable to manufacture high quality drugs.
If we consider malaria or other pandemics, the African governments often travel to Europe or elsewhere to acquire products, whereas, it would have been better for them to successfully build medical industries to manufacture their own drugs.
Most drugs provided in Africa come from either Europe or India. Due to lack of entrepreneurship, the African population is also obliged to seek for expired drugs coming from the West, drugs that may harm the body.
Solutions
Implementation of good health development policies in Africa
Dr Matshidiso Rebecca Moeti from Botswana is a public health veteran with more than 35 years of National and International experience. She is also the first woman of the World Health Organization (Regional Director of Africa) who aim to build a responsive, effective and result driven secretariat to advance efforts towards universal health coverage and to accelerate progress toward development goals concerning the medical system in Africa.
Added to that, the millennium development goals (MDG) and the United nations General Assembly special session on HIV/Aids have set goals to reduce HIV prevalence (Global health observatory) by facilitation the acquisition of HIV drugs in many African countries.
Another solution will also be the creation of African pharmaceutics laboratories to resolve problems related to pandemics and other diseases.
The reintroduction of traditional medicine
It is important that African population need to seek for more traditional medicines which can help to prevent and cure some illnesses. Natural herbs are efficient in some countries of Africa (Ghana, Cameroon, Mali, Zimbabwe, Malawi, Nigeria, Togo, Benin etc). Victims of malaria and typhoid prefer local herbs due to less chemical products and during a session of African Union (UA) it was highly recommended to use traditional medicine in the health system of Africa as a solution.
By Lilian Neg, Africa-Cameroon correspondent | Contact Lillian: Facebook.com for book and lecture inquiries | More articles by Lillian Neg
Så här kan du stötta Newsvoice