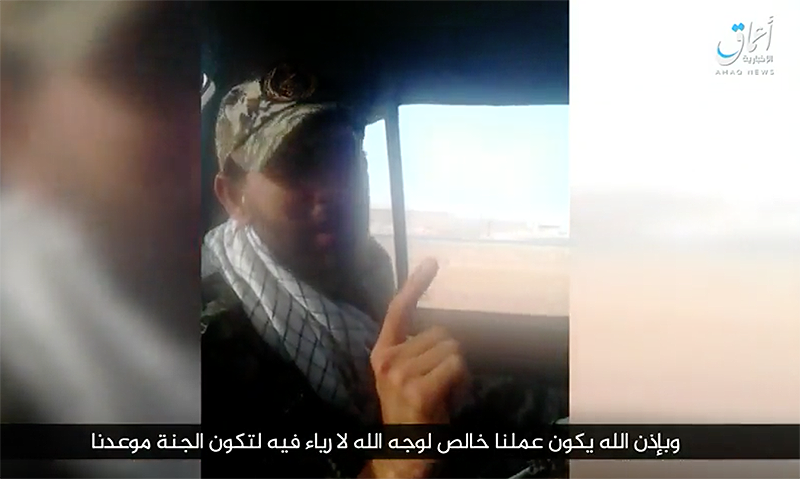 Islamic State's Amaq agency posted a video on Sunday (September 23) showing three men in a vehicle who it said were on their way to carry out an attack on the Iranian military parade that killed 25 people a day earlier.
A man wearing a baseball cap emblazoned with what appears to be a Revolutionary Guard logo discussed the impending attack in Farsi in the video.
"We are Muslims, they are kafirs (infidels). We will destroy them with a strong and guerrilla-style attack, God willing."
Ahvaz National Resistance, an Iranian ethnic Arab opposition movement which seeks a separate state in oil-rich Khuzestan province, also claimed responsibility for the attack. Neither of them provided evidence.
"Peace be upon you, how are you? Thank God for his grace that he granted us, which is the grace of Jihad. I swear to God that there is nothing much better than this grace and God helped us feel calm. I do not know, I cannot make you feel it and I call on you to be steady. I hope God will accept us as his martyrs." –  First unidentified man
"My message to my mother and father, I love you so much and I want to keep loving you until the end of my life and serve you but it is the order of Allah (God). It is because of the order of God, other than that I would love to keep serving you but the order of God is much higher and has a priority to do so." …
"Thank God we are happy and I call on you to be steady and pray for us for God to accept us. Peace be upon you."  – Second unidentified man
"God willing all the kafirs (infidels) will all be eliminated, god willing. God willing if there is honesty and there is no deceit then the believers (us) will go to paradise. We are Muslims, they are kafirs. We will destroy them with a strong and guerrilla-style attack, God willing." – Third unidentified man
Iran's elite Revolutionary Guards vowed on Sunday to exact "deadly and unforgettable" vengeance for the attack and Tehran accused Gulf Arab states of backing the gunmen.
The assault, one of the worst ever against the most powerful force of the Islamic Republic, struck a blow at its security establishment at a time when the United States and its Gulf allies are working to isolate Tehran.
Source: AMAQ NEWS AGENCY via Reuters.com


I kommentarsfältet har varje person ansvar för sin egen kommentar. Se reglerna
.