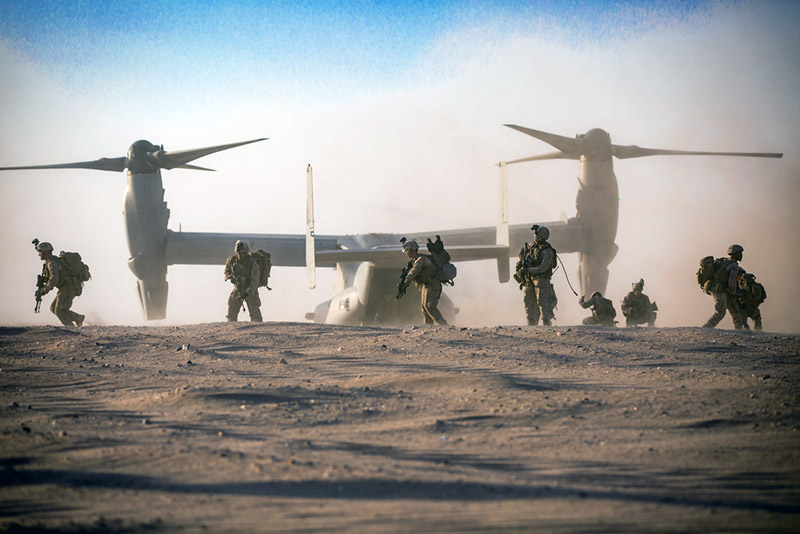 Operation Inherent Resolve Coalition forces kicked-off an exercise in eastern Syria to hone their warfighting skills for counterterrorism operations Sept 7.
The exercise involved an aerial assault by a company-sized dismounted element, which will conduct a live fire rehearsal before departing the 55-kilometer de-confliction zone around the Coalition's At Tanf Garrison.
"Our forces will demonstrate the capability to deploy rapidly, assault a target with integrated air and ground forces, and conduct a rapid exfiltration anywhere in the OIR combined joint operations area," said Navy Capt. Bill Urban, spokesman for U.S. Central Command.
"Exercises like this bolster our defeat-ISIS capabilities and ensure we are ready to respond to any threat to our forces."
Coalition officials are de-conflicting this activity with Russian counterparts using established de-confliction processes intended to prevent miscommunications or escalations in tension.
Working by, with and through partner forces, CJTF-OIR continues to defeat ISIS remnants in designated areas of Iraq and Syria, and to help set conditions for the enduring defeat of ISIS.
For more information, call U.S. Central Command Communication Integration Media Operations Division at (813) 529-0220.
Source: US central Command | Press Release number 201800907-01
Relatead