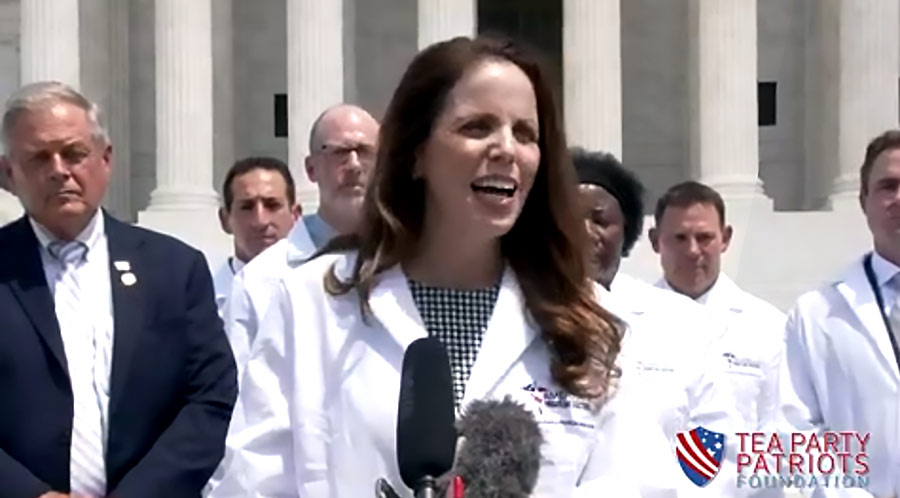 OPINION. Freedom is a prerequisite to having a fully realized human experience. The primary driver of our work at AFLDS is to help preserve our inalienable human right to freedom by empowering people with truth.
By Dr. Simone Gold (Americasfrontlinedoctors.com), author of the book: "I Do Not Consent: My Fight Against Medical Cancel Culture"
The most effective way to steal people's freedom is to systematically instill fear. The most unobtrusive way to instill fear is via propaganda and censorship. If someone can be convinced that they may not be alive in the future, they might carelessly trade away their right to freedom today. This is such a predictable human response that it is easy to exploit. Throughout 2020 we have watched as fear was deployed through omnipresent propaganda and rampant censorship, and then harnessed to serve a political agenda.
Modern American society is not the first to fall prey to propaganda. As Joseph Goebbels and Adolph Hitler said, "If you tell a lie big enough and keep repeating it, people will eventually come to believe it." Winston Churchill observed that, "A lie gets halfway around the world before the truth has a chance to get its pants on." (And that was before the internet.) Every person must learn how to differentiate truth from fiction. This is such a critical life skill that I teach everyone exactly how to recognize propaganda in real-time in my new book: I Do Not Consent: My Fight Against Medical Cancel Culture. AFLDS reject propaganda in all forms.
In 2020 the disinformation and censorship has been most obvious in the scientific arena. A successful disinformation campaign convinced both ordinary people and physicians to believe that a decades-old safe medication derived from quinine found in tree barks, used billions of times around the world, is dangerous.
In fact, HCQ has been used safely and effectively millions of times to treat and prophylaxis patients with and against SARS-CoV-2. America's Frontline Doctors continue to oppose censorship in all forms.
I am a physician trying to educate patients and an attorney trying to educate everyone. As a Stanford University Law School graduate, I am familiar with the Constitution and election process. There has been tremendous misinformation on social media and flat-out disinformation in the traditional (television) media as to what is transpiring right now. Here are the facts as of November 11, 2020:
There is no "winner" yet, not because it is unknown, but because it is thus far, unknowable.
The winner is unknowable until the Courts determine the amount of election fraud.
The Courts have received a vast amount of hard evidence, data, and affidavits attesting to election fraud.
Media declarations of a "winner" are wholly irrelevant.
Media declaring a "winner" causes citizens to lose faith in the process and hardens unjustified entitlements.
Bush vs. Gore required 37 days of excruciating transparency, with all media and bipartisan observers witnessing and video memorializing every moment of the process.
The media insisted on referring to Gore as President-Elect Gore. Right up until he conceded.
President Ronald Reagan taught:
"Freedom is never more than one generation away from extinction. We didn't pass it to our children in the bloodstream. It must be fought for, protected, and handed on for them to do the same, or one day we will spend our sunset years telling our children and our children's children what it was once like in the United States where men were free."
May we all continue to: think clearly, discern cautiously, and trust intuitively. Only those in possession of truth can find freedom. God bless you, and God bless America.
By Dr. Simone Gold (Americasfrontlinedoctors.com), author of the book: "I Do Not Consent: My Fight Against Medical Cancel Culture"

Så här kan du stötta Newsvoice