SWEDEN. We can look forward to a turbulent Sweden. If the government decides to introduce mandatory vaccine passports when ethnic Swedes and new Swedes join forces for a common resistance to the corona repression, warns Petrit Latifi, whose family comes from Kosovo in Eastern Europe.
Torbjörn Sassersson asked Petrit Latifi a hypothetical question: What would happen if the old tolls around Stockholm had the function of control stations for the "green" vaccine passports?
According to Latifi, it can be messy if "immigrants" decide to go to the capital, to their relatives, friends, and their companies, and at the same time refuse to show vaccine passports because they do not have any. There will be a lot of fuss and traffic jams. If the clan leaders have decided that their family members will not be vaccinated, resistance will arise differently.
Also, stores that require vaccine passports end up at a financial disadvantage to stores that only choose to follow the restriction with a maximum number of visitors to the premises is another decisive factor. The market forces intervene.
The interview focused on why immigrants are so silent in the debate on the abolition of the freedom of expression, the press, and movement in Sweden. All conscious people see this negative development in the country and the world. Should not all these people who have fled other cultures and societies because of government oppression, war, and poverty, make their voices heard? They came to Sweden because they searched and found refuge, says Sassersson.
The immigrants are waiting for the Swedes to put up a natural resistance
Petrit Latifi answers that most clan families primarily take care of their people in residential areas. They also see that Swedes do not make any significant opposition to the abolition of freedoms and rights, so why should they then help those who can not even help themselves? At the same time, Latifi says that when they see that the Swedes are rising, they will take part in the fight against the government, the pharmaceutical industry, and their common insidious oppression and surveillance with the help of vaccines passports, QR codes, and contact tracing.
The Great Protest of January 22, 2022
Torbjörn Sassersson asks whether immigrants, migrants, and the new Swedes will participate in the large protest in Stockholm on 22 January 2022 against vaccine passports in Sweden. Latifi replies that he believes and hopes that they will participate.
Sassersson looks forward to hearing more from people from other cultures. He wants them to join in the debate about Sweden as a country. Do the "immigrants" want Sweden transformed into a totalitarian control state centered around vaccination status?
By NewsVoice
Stockholm protest January 22, 2021: No to Vaccine Passports in Sweden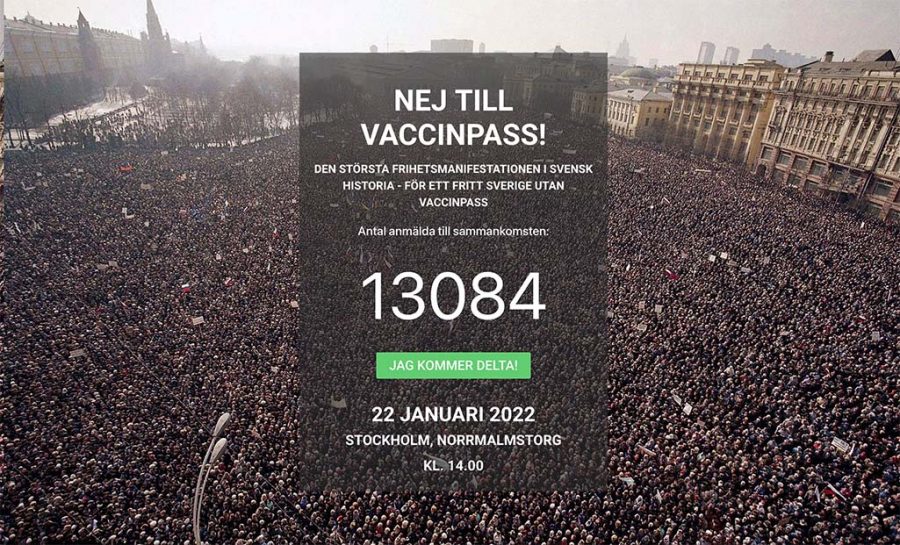 Så här kan du stötta Newsvoice