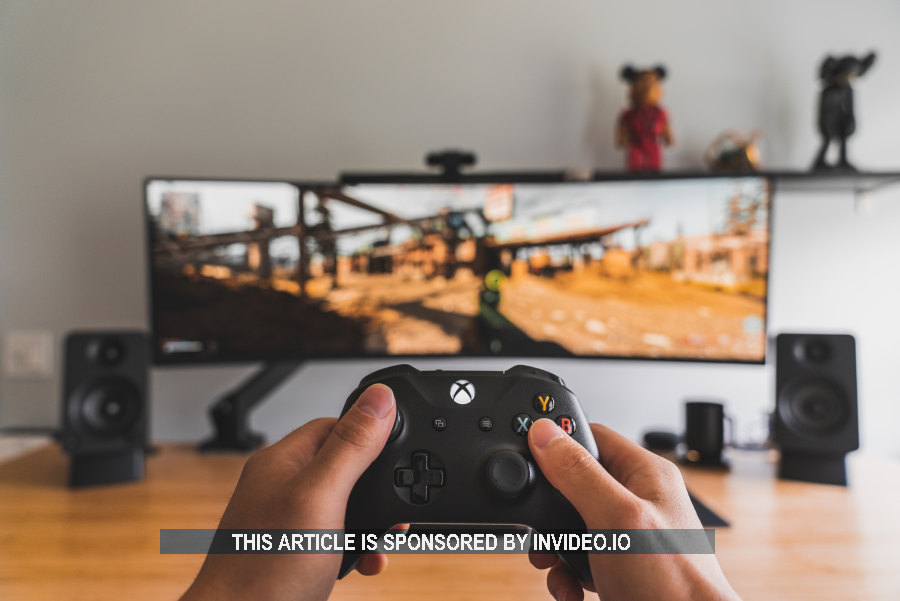 Edited gaming videos are a rage nowadays. Many people search for best practices to edit gaming videos and upload them on social media for views and likes. If you are looking to edit gaming videos, we have lined up useful tips to get you started on your hobby.
Editing videos is a time-consuming process, and the availability of large amounts of material like a game being played can get overwhelming. With some structure of step-by-step instructions and good editing software, you can quickly become a pro.
To edit gaming videos like a pro, you have to have the basics set up in place. The first is to be able to record the game on the computer. The second is to have the right editing software with the features that are important for you. Finally, the third is to have a plan.
Recording a Game Live
Choose the right game to record. If your objective is to share your video and gaming skills with your friends, choose the game that you are proficient in. However, if you want to attract engagement and monetize the video, choose what people like watching.
To record a game while you are playing, you can use one of the two options. Windows and Xbox, for instance, provide a capability to record a game to edit later. Otherwise, you can invest in a video console device to capture the content while you are gaming.
If you are recording the gaming video using an external video console device, make sure it has an audio recording facility. Sometimes you will have to use a high-quality audio system to record the sounds to play along with your video.
Have a Reliable Internet Connection
Gaming videos are heavy and eat into your broadband connection. To avoid poor quality output, make sure you have a reliable and high-speed Internet connection. Though this is obvious, do not assume you have the right kind of Internet connection.
Without a high-speed Internet connection, the benefit of using high-quality hardware and software is lost. The result will be poor quality pixelated output that will not do justice to your hard work.
Do not be fooled by how quickly your Internet connection uploads your web pages. All ISPs provide decent download rates. However, while you are recording and transmitting your gaming video, you will be uploading it. Upload speeds need to be high enough to manage that, so the output is high quality.
Find a Good Video Editor
Choosing the video editor is one of the most crucial spots when you're wondering how to edit a video. You need an intuitive and interactive video editing tool to cater to your needs for gaming videos. This editor should be able to reflect your expertise with clear gameplay images. Here's a list to guide you choose the best:
#1 Lightworks
Lightworks is a popular editing software that is known for its simple-to-use interface. It is optimized for uploading on platforms like YouTube. It can easily handle high-quality 4k video footage for editing.
One of the hallmarks of a good video editor is the availability of sound and videos that are royalty-free. Lightworks provides a large library of these. While it has a large selection of visuals, its free audio collection is somewhat limited.
#2 iMovie
If you are a Mac user, iMovie is a free video editing software available for you. Though free, it comes with all the bells and whistles that a professional video editing tool has. Like Lightworks, iMovie supports 4k content.
What iMovie does well is to give you the ability to organize media easily. This ability is an important feature for editing gaming videos so that you get an awesome gaming experience. Gaming videos have very large footage that can get tough to manage without a feature of this sort. Like all Mac machines, newer formats do not work well with older model machines, especially formats like 4k.
#3 InVideo
InVideo is an online video editor with one of the simplest UI that is designed to create professional-level videos. If you are making gaming videos with InVideo you will have the benefit of using a giant platter of features. InVideo can be used on any browser and ensures high-quality videos within a short rendering time.
Gaming videos always shine with a personal touch. That's what attracts viewers, engaging comments! With InVideo you can put your comments either through voiceovers or subtitles and other forms of texts. InVideo's stock library also gives the option to add music, short audio tracks, GIFs, and other elements. You can also create intro and outro clips for your gaming videos using this same video editor.
#4 Filmora Go
Filmora is a mobile app that is available for download both on Android and iOS. Since it is a mobile app, it makes it very easy to edit the footage and share it online instantly. Unlike other software, Filmora allows you to share your videos without a watermark.
Filmora has a sharp UI and takes a simple three-step process for video editing. Like similar editing software in its league, it offers a large library of free content and features. Since it is a mobile app, there is a limit to how big a file it can handle.
Use Best Practices
Make sure your gaming video is not choppy and does not show unnecessary information like meeting notifications while playing. The footage has to play smoothly without any stops. Ensure your Internet connection is stable and can support a resolution of a minimum of 1080p and 70 frames/second.
Adjust color, brightness, and saturation in a way that is pleasing to the eye. Avoid the temptation of increasing saturation to make the images pop. Videos get higher visibility and longer playtime if their look and feel are consistent with other videos in the feed.
Do not overdo transitions from one frame to another. The best transitions are the barely noticeable ones. Many editing software gives a large number of transition templates for free. Too many effects will make the video look amateurish.
While adding audio, make sure it does not overshadow the narration and the sound effects embedded in the video. Free audio provided by video editing software is royalty-free. If you choose to use your video, be aware of its copyrights.
One of the most overlooked best practices while editing is to have a backup. Editing is a very time-consuming process. Imagine meticulously editing a game for over 10 hours and having your drive crash. Always save a backup copy of your work as you edit. This will save you from starting from scratch.
Conclusion
Editing a gaming video is about keeping the exciting parts and editing out the boring ones. Editing enhances the video with smart transitions, catchy audio, and stunning visuals. Edited gaming videos should be like highlights of a sports match. Have a constant flow while being concise and to the point.
Many game lovers spend time watching edited games, some as entertainment, and some to learn. With these tips and best practices, you are ready to create your edited gaming videos. Go ahead and save them for posterity or share them with friends and fellow gamers for views. You can also post them on your website and earn from ads like gaming companies shown in the space.
External writer

Så här kan du stötta Newsvoice