In this episode, Torkel and I go into the censorship around vaccines and vaccine injuries and what makes this topic so taboo? We talk about the different vaccines and what is actually in them?
Interview and text by Aga Wilson, Aga Wilson Show | Image: Torkel Snellingen och Aga Wilson. Photo: Hemali.no och Prespektiv TV
We get into how the media and the medical establishment has been covering up the many side effects globally and how it's slowly changing as more data and science is showing the opposite from what we have been told.
We talk about the reform of the whole public health care system and why it is important! These are critical times to come together and collaborate in order to get the truth out and spread awareness about the millions of injuries suffered by people across the world.
Interview and text by Aga Wilson, Aga Wilson Show | NewsVoice.se is an Independent News and Debate Channel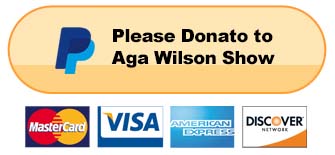 Related
Dr Torkel Snellingen: (TS) (d.o.b 26 Apr, 1956) has over 25 years of experience in the development and implementation of international collaborative research, exchange a programs in the South East Asian and Asia Pacific Region. He has worked as a formal and informal consultant for Asian and Nordic Governments, Companies and Institutions in diverse fields as culture, environmental health and engineering, community health and healthcare reform issues and technology transfer for environmental and information technology related development projects. TS has a medical degree from University of Oslo (cand med), Diploma Degree from University of London (DCEH), MPH (cand FH) and PhD (dr Med) from University of Tromsø, Norway.From 1992 to 2000 with funding from Norwegian Universities Council NUFU Programme and World Health Organization worked with development and implementation of international collaborative research projects related to the surgical management of cataract blindness in South Asia known as the South Asian Cataract Management Study (SACMS).Since 2001 to 2012 TS worked actively with China Mainland projects related to Health Research Capacity Development and IT Healthcare localization projects. In 2006 facilitated the development and implementation of a regional health research capacity development programme named FK Norway Asia Health Research Network Project (2006-2012). In 2013 the project received a special recognition by the Director of the UNHQ Office for South-South Cooperation.TS has in close cooperation with Royal Ministry of Foreign Affairs and Royal Norwegian Embassy in Beijing in China worked actively promoting Musical Cultural Exchange between the two countries. The main focus a cooperation with Musician and Producer of 2008 Olympic Closing Ceremony Mr. Bian Liunian and diverse Norwegian Musicians .TS resides currently in Oslo, Norway where he is an associate of the Norwegian Association of Small and Medium Enterprises (www.dinbedrift.no) in Oslo as Coordinator of International Project Development and Senior Advisor.
Research Gate: Torkel Snellingen
Så här kan du stötta Newsvoice