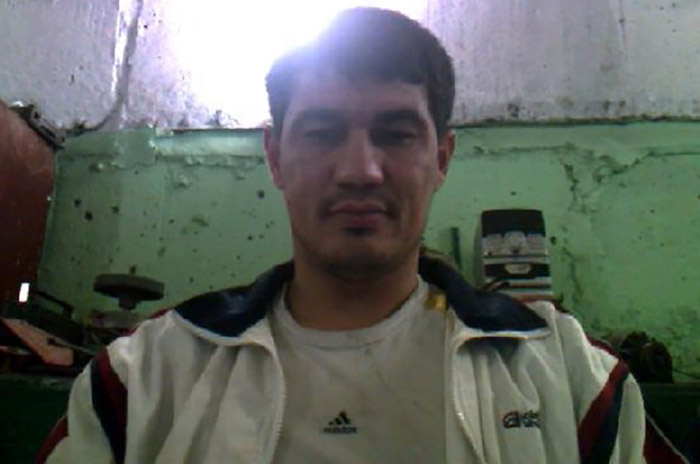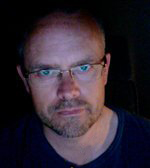 STOCKHOLM TERROR ATTACK. The suspect – identified as Rakhmat Akilov (39) – was apprehended by Swedish security forces on Friday have confessed he drove the truck in Stockholm April 7. He says the order came directly from ISIS in Syria and the order was to kill infidels. His motive was to bomb Sweden because Sweden is bombing Syria, as reported by Swedish media outlets. 
The terrorist took control of a truck and directly started to drive very fast along the crowded street Drottninggatan in the city centre. As people throw themselves away the terrorist managed to kill or hurt 19 people (4 killed). The terrorist suspect then ran to Arlanda Express and took the express train to Arlanda Airport. He then left the airport and gave himself up at the Circle K gas station in Marsta, near Arlanda. Witnesses saw that the man had burn injuries, according to Aftonbladet.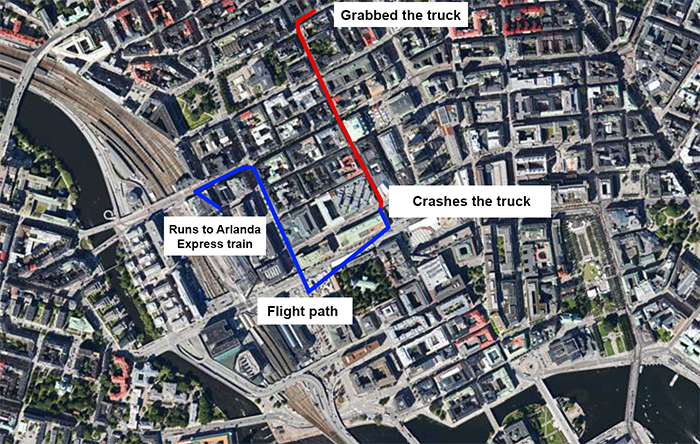 The suspect was hurt in the fire when the truck hit the Ahléns' building. Inside the truck police found bomb parts. When in custody the man claimed he is muslim and was ordered by ISIS to commit the crime. According to the sources of Expressen and Aftonbladet Rakhmat Akilov said that the bombings of Syria must stop and that he bombed Sweden because Sweden is bombing Syria. On his Facebook page he has shown his interest for ISIS and have liked ISIS killings.
Sweden taking part in wars in the Middle East, Central Asia and Africa
The accusations against Sweden are not without a foundation. Sweden is involved in many military actions in the Middle East, Africa and countries such as Afghanistan. The Swedish airforce helped the US to designate bomb targets in Libya. A righteous civilan tried to drag the responsible politicians to court but in vain. The attempt is summoned on the site Highcrimes.org.
NewsVoice has been in contact with Swedish military individuals claiming to have knowledge about Swedish partnerships in wars led or controlled by the US. Some wars are dirty, giving Swedish armed forces and intel personel a very bad reputation abroad.
The Swedish Newspaper DN published the revealing article "Swedens Secret Wars" in 2014. DN informs the reader about how The Special Operations Task Group (SOG) have been on missions in The Central African Republic, Tchad, Afghanistan, Kongo and many classified countries [such as Somalia].
The Swedish financial family Wallenberg (SAAB Group, Marcus Wallenberg) was revealed as a major player and also benefactor in the Saudi weapons scandal where the Swedish military authority FOI was commissioned to help build a weapons factory in Saudi Arabia. The scandal was uncovered by journalists and one consequence was that the defense minister Sten Tolgfors "left" his job, as reported by various outlets in the Swedish mainstream media. The complete story is told in the book: "Saudi Weapons: feigning politicians, lying officials and secret spies –  A political thriller about Swedish arms trade" 
A former defense minister Thage G Peterson in 2015 tried to trigger an investigation about the Swedish involvement in the bombing of a hospital in Afghanistan. The claim was supported by an article in New York Times: "Germany and Sweden Are Said to Help Make Afghan 'Kill Decisions'".
Lars-Gunnar Liljestrand who is chair of the organisation "Solidarity for Afghanistan" in 2015 claimed that Swedish armed forces was part of illegal drone attacks in Afghanistan.
The American global intelligence company Strafor which use an intel-based approach to analyze world affairs published an article in 2015 by the security expert Karl Lallerstedt, "Syria and Sweden: A distant conflict with serious consequences at home". He warns about terror connections between Sweden and Syria.
Karl Lallerstedt -Foto: Linkedin

"Even though Damascus lies over 3,000 kilometers away from Stockholm, the Syrian civil war arguably presents a more widespread threat to Sweden than any conflict since the Second World War.

Since the fighting began, an estimated 250-300 Swedish citizens have traveled to Syria and Iraq in order to join al-Qaida-inspired organizations. Many have died. Some of those who survive could potentially commit acts of terror upon their return".
Still the question remains why Sweden would be targeted by a terrorist. If Rakhmat Akilov is a terrorist, and the man behind the terror attack in Stockholm, and since he has said he bombs Sweden because Sweden bombs Syria, what exactly what has Sweden done in Syria?
The Swedish news magazine Proletaren gives us a clue:
"Sweden was supposed to promote democracy and human rights in Syria. But the money has gone to movements crying for more weapons and perpetrating terror against the people." – "Examination of Sweden's involvement in Syria"
Rakhmat Akilov
Swedish media writes that Rakhmat Akilov was applying for a residence permit in 2014. In 2016 he was not granted a permit by the Swedish Migrations authority. Akilov was ordered to leave the country at the latest in mid January 2017. He didn't.  He was fired from the last job and left without notice from another job as late as March or February. He has a wife and kids. Expressen claims he is an expert in bomb making.
According to SVT a Swedish police chief Rakhmat Akilov will be imprisoned for the rest of his life. But who will imprison the people in Sweden responsible for war crimes abroad?
Text: Torbjorn Sassersson, editor
More sources

Så här kan du stötta Newsvoice