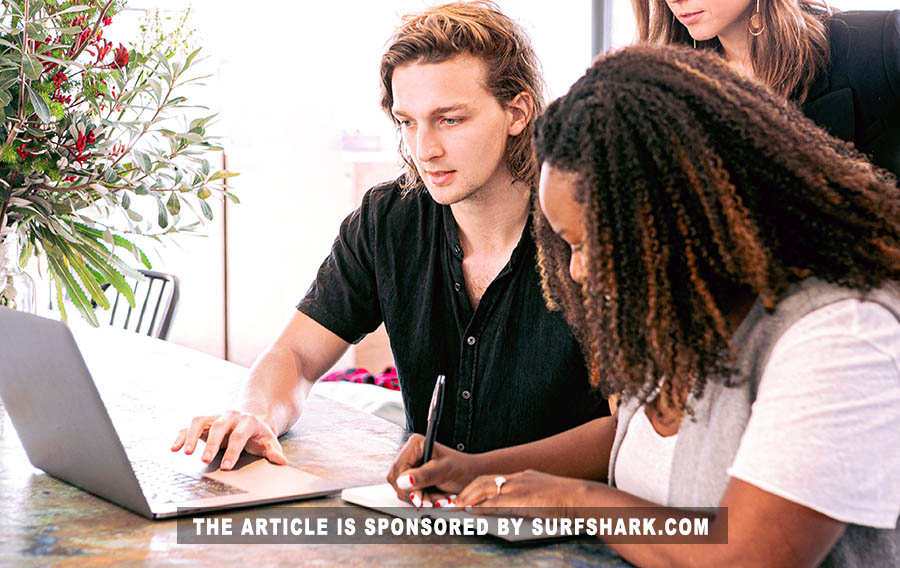 Do you wonder what security threats are lurking around the periphery of your network and at the other end of so many of the multitudes of connections you make across the World Wide Web in the course of a given day or week? These days, every business and individual professional user needs to maximize cyber security. The benefits of a VPN for business include an exceptional layer of internal network security and individual user privacy, among many others.
What's a VPN?
A Virtual Private Network (VPN) is a network security and user privacy solution designed to maintain confidentiality and privacy as users browse the internet and send and receive data across the public network. In addition to the encrypting that secures your activity, a VPN also unblocks access to sites in censored areas, providing a far greater extent of freedom to use the global network.
What are the Benefits of a VPN for Business?
There are many benefits for organizations in using a leading VPN service that delivers maximum protections and all the other advantages that quality a VPN can provide. Here are 14 key benefits of VPN service:
1. Increased Security
Public networks present a serious threat to cybersecurity. The VPN is designed to ensure that you're connecting to a secure, private network in which you're not vulnerable to anyone trying to access data you're sending or receiving. A VPN encrypts your activities online and helps ensure security while you're connected to public Wi-Fi networks, in locations like hotels, or your favorite coffee shop. It even secures your system from access by your own ISP, and from the VPN service itself.
2. Improved Privacy
Internet browsers, websites, apps, cable companies, phone companies, internet service providers (ISPs) and others are continuously tracking users' activity and analyzing data they're collecting from it. A VPN is designed to prevents such access to your information, to help you maintain confidentiality online. The VPN masks your IP address, physical location, and internet search history. It enables you to browse the internet and access websites and applications in anonymity.
3. Remote User Protection
For professionals who frequently need to be able to work from home or from other locations away from the office, a VPN empowers people to access the information they need remotely. This advantage can increase a company's productivity.
4. Prevention of Bandwidth-Throttling
When you notice slowed speed on some websites at various times, you may be experiencing bandwidth throttling. Parties with administrative controls for your network, such as your ISP, or others can be causing the slowed functioning. A VPN encrypts your devices' internet activities, which can stop the kinds of interference that results in the sluggishness.
5. Prohibits Data-Throttling
In addition to the web privacy and data security benefits, having a VPN also frees users from being subject to data caps. Without a VPN, ISPs can and very often do impose caps on users' data, in order to maintain maximal speed of web use for some customers.
6. File Sharing
A VPN service is an excellent solution for groups that need to be able to freely and safely share data over extended periods of time.
7. Scalable Network
Costs of developing a private network escalate as a company grows. An internet-based VPN enables your organization to use existing network lines and capabilities. This advantage provides users at distant sites, including your organization's internationally located users with increased service quality and extent of reach.
8. Enables Switch to a Different IP address
For various purposes, you may need to change to an IP address from a different country than the one you're in. A VPN is designed to provide you with another IP address anytime, as needed.
9. Better Network Performance
Implementing a VPN solution can increase your bandwidth and network efficiency. This can eliminate the frustrating wait times for pages to load when using an inferior VPN. Choose a VPN that can be expected to improve your web connectivity, and avoid any that will slow you down.
10. Bypass Censoring Abroad
VPN technology increasingly popular for helping users access content from any location around the globe, with a quick click or two, enabling the user to bypass regional or national restrictions of access to various websites. Confirm that using a VPN for this purpose is legally allowed in the country you're in, before you use the VPN.
11. Access Regionally Unavailable Sports Programming
In geographic areas where access to programming for sports events is restricted, a VPN can help you access the coverage. For example, a VPN may enable you to watch your favorite TV channels and programs from your location in a foreign country that has that programming blocked. Check the Terms of Service for your web streaming service, prior to using your VPN for this purpose. Before you use your VPN for this purpose, confirm that it is legal to do so in the country and local area you're in.
12. Reduce Network Support Costs
Having a VPN in place can help save on costs of server maintenance. VPN server maintenance costs are normally quite low. Outsourced support services typically give you the cost advantage of the support provider's economies of scale in providing its services to its clients in a whole range of service delivery and purchasing factors.
13. Reduce Long-Distance Phone Charges
A VPN can cut the cost of a business's phone bills for long-distance. As one example, to access your company's intranet by accessing remote servers, users can connect via your ISP's local point of access.
14. Reduce Costs of Leased Network Lines
Having a VPN means savings for organizations through, for example enabling them to bypass leasing costly lines that provide the network capacity that enables connectivity between the business's physical locations. The VPN allows the company to connect through already established public infrastructure in their local area instead, either via an ISP's broadband connections, or across inexpensively leased lines available in the area. As you can see there are many benefits of a VPN. 
VPN Limitations
Like any technology, there are some predictable common problems with VPN services. Obtain guidance from your VPN's support team on how to use the VPN safely and securely. Typical problems with lesser VPN options can include:
Occasionally, a VPN may drop connection. This is a normal occurrence. To avoid connecting to an overloaded VPN server, before you choose a VPN provider, insist on assurances that you'll be getting a safe, secure service, without risk of connection drops.

Some VPN apps do not render your online activities entirely private. Make sure the VPN you choose does perform at a level that can ensure complete privacy of online activities.

VPNs may not be legal in some countries with strict censorship practices. If you're unclear on whether or not it is legal to use a VPN the country where you're located, check to be sure which countries ban use of VPNs.
Tips for Maximizing the Benefits from a VPN
There are many benefits with a VPN. Here are some ways to boost the amount of benefits you receive from your VPN service:
Be careful with advanced app settings.

—If you're using a VP app, get someone who knows what they're doing to help you with advanced settings, in order to avoid risk of data leaks or compromise of your online privacy.

Protect against leaks.

— If your VPN's app settings permit it, check leak preventive options, such as those that protect against DNS, WebRTC, IPv6 leaking, and others.

Use your VPN on all networked devices.

— Public Wi-Fi is a serious threat to cybersecurity and privacy. Protecting desktop and laptop computers alone cannot secure your system. All mobile devices need to be secured by your VPN service.

Employ Double VPN Servers.

— If you happen to have Double VPN servers on your servers list, use those.

Before you connect, test the server network.

— Testing the server network helps ensure that you're connecting to the fastest server available to you.

Use browser extensions.

— Avoid any time-consuming and complicated detail entries and server selections by using browser extensions, to switch your IP quickly and conveniently so you can open your app.

Have smart DNS

technology. — Even when you're far from your own area, this capability enables you to access streaming channels that are otherwise blocked, so you can still watch favorite media content wherever you are.

Use peer-to-peer servers.

— If you want to use a VPN for the purpose of safely downloading torrents, only use the P2P server to do that, to avoid any potential issues with your ISP.
How to Get a VPN for Business that Delivers the Most Benefits
There are lots of VPN providers to choose from. Deciding which is best for you depends on your needs and budget.
Free vs. Paid VPN Service

— A free VPN service may not provide the protections you need. Some may even pay for their operating costs by requiring access to your data, in exchange for free service. They generate their revenues by

selling your data to third parties

.

KillSwitch

— The VPN you choose should provide a KillSwitch, to help ensure you continued security, in the event of a dropped VPN connection. Both an

Internet KillSwitch

, to block internet traffic and an

Application KillSwitch

, to automatically close specified apps.

Abundant Servers

— To ensure its maximum usefulness to you, be sure that the VPN service you choose provides you with the largest possible number of servers worldwide.

Strong Encryption

— Choose a high-quality VPN provider that offers you 256-bit military-grade data encryption.

OS Compatibility

— The multiple devices you use probably have different operating systems. Choose a good VPN provider that provides apps that are compatible with all of them.

Simultaneous Web Connections

— You're probably constantly online with multiple devices at any given time, so choose a VPN that supports multiple concurrent connections.

User Support

— Choose a VPN service that offers strong customer support using a Help ticket, and enabling you request and receive support by your preferred means of contact, including email, live chat, etc.

Anti-Malware Protection

— A leading VPN provider may offer the additional feature of malware protection. This feature also can prevent pop-ups during your browsing sessions.

No-log VPN Service.

— One of the two most basic jobs of a VPN is to keep your online activities private. Don't allow your ISP or your VPN service provider breach your privacy by peeking in on your activities? Check privacy policies before choosing a VPN, and only choose a VPN service that does not keep logs of connections.

Free VPN Trial Period.

— Research features, performance, privacy policies, and pricing information for the VPNs you're considering. Take a free VPN trial, to help you choose a service.
VPN Big Picture
A VPN for Business empowers you to control your level of global access to internet sites, and it frees you to work on the web in complete privacy and with unparalleled security. As you can see from the above list of VPN benefits, the technology offers a wide range of other important advantages for companies. This is especially true for those with users who frequently work from remote locations, and for those whose team does a lot of work that requires a broader range of access in international markets.
As you can also see, there's a lot to consider when evaluating VPN for Business services, so compare features, benefits, and costs, and use the above lists as a guide for evaluating the basic inclusions you should expect of a leading VPN service provider.
Related

Så här kan du stötta Newsvoice