NATURAL BIRTH. In this episode, Maria Dangond and Antonia Dunbar, and I talk about our postpartum experience and what we go through when becoming mothers. We talk about breastfeeding, parental leave, and the important things that follow after birth. How our bodies change and how incredibly they are built to handle all that is coming.

By Aga Wilson (Aga Wilson Show) | Video editing: Alexa Shuck

We talk about stigma and how we are not prepared for the postpartum journey. We also get into breastfeeding and the benefits of that. The taboos that surround it and what it's like for women to breastfeed in public in different parts of the world.
We also discuss the almost nonexisting postpartum care and what risks that may have on new mothers and their babies.
Also watch the interview: Natural Birth and What They Don't Tell You – Part 1 – Aga Wilson Show
By Aga Wilson (Aga Wilson Show) | Video editing: Alexa Shuck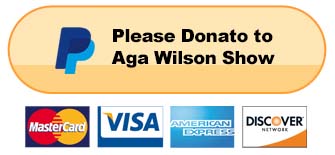 Related