AGA WILSON SHOW. In this episode, Dr. Peter McCullough and I talk about the ongoing censorship and the recent suspension of his Twitter account. This is a huge step back for our community and how knowledgeable people going against the mainstream agenda are being treated. 
The video: if Youtube decides to censor this video it's also available on Rumble and Odysee.
We talk about Peter's new book: "The Courage to Face Covid-19″ and he shows me the latest translation to Swedish: "Modet att Behandla Covid-19".
We also talk about the child vaccination rollout and what that looks like in different parts of the world and the impact we are beginning to see amongst children.
Please feel free to help Peter get back on Twitter by using one or more of these hashtags: #UnbanMcCullough #ReinstateMcCullough #PeterMcCullough #DrMcCullough #McCulloughScience #McCulloughwasright #McCulloughvsFauci  #DrPeterMcCullough
Interview and text by Aga Wilson, Aga Wilson Show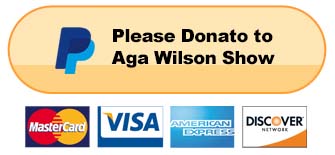 Så här kan du stötta Newsvoice