---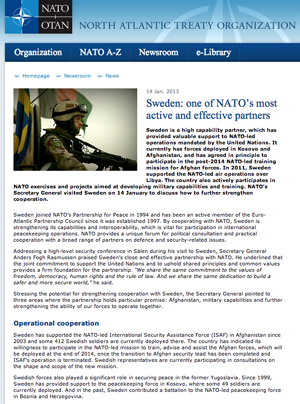 Sweden is a high capability partner, which has provided valuable support to NATO-led operations mandated by the United Nations. It currently has forces deployed in Kosovo and Afghanistan, and has agreed in principle to participate in the post-2014 NATO-led training mission for Afghan forces. In 2011, Sweden supported the NATO-led air operations over Libya. The country also actively participates in NATO exercises and projects aimed at developing military capabilities and training. NATO's Secretary General visited Sweden on 14 January to discuss how to further strengthen cooperation.
14 Jan. 2013
Sweden joined NATO's Partnership for Peace in 1994 and has been an active member of the Euro-Atlantic Partnership Council since it was established 1997. By cooperating with NATO, Sweden is strengthening its capabilities and interoperability, which is vital for participation in international peacekeeping operations. NATO provides a unique forum for political consultation and practical cooperation with a broad range of partners on defence and security-related issues.
Addressing a high-level security conference in Sälen during his visit to Sweden, Secretary General Anders Fogh Rasmussen praised Sweden's close and effective partnership with NATO. He underlined that the joint commitment to support the United Nations and to uphold shared principles and common values provides a firm foundation for the partnership. "We share the same commitment to the values of freedom, democracy, human rights and the rule of law. And we share the same dedication to build a safer and more secure world," he said.
Stressing the potential for strengthening cooperation with Sweden, the Secretary General pointed to three areas where the partnership holds particular promise: Afghanistan, military capabilities and further strengthening the ability of our forces to operate together.
Operational cooperation
Sweden has supported the NATO-led International Security Assistance Force (ISAF) in Afghanistan since 2003 and some 412 Swedish soldiers are currently deployed there. The country has indicated its willingness to participate in the NATO-led mission to train, advise and assist the Afghan forces, which will be deployed at the end of 2014, once the transition to Afghan security lead has been completed and ISAF's operation is terminated. Swedish representatives are currently participating in consultations on the shape and scope of the new mission.
Swedish forces also played a significant role in securing peace in the former Yugoslavia. Since 1999, Sweden has provided support to the peacekeeping force in Kosovo, where some 49 soldiers are currently deployed. And in the past, Sweden contributed a battalion to the NATO-led peacekeeping force in Bosnia and Herzegovina.
In 2011, Sweden was quick to agree to contribute to NATO-led efforts to enforce the mandate of the United Nations and protect the Libyan people by deploying eight fighter jets to Sigonella Air Base in Sicily.
Developing military capabilities
In times of economic austerity, it is essential to develop multinational approaches to generating military capabilities through pooling and sharing, prioritisation and specialization. NATO is taking steps to address this need through projects launched under the Smart Defence initiative, and is hoping to explore opportunities with partners in this area.
Sweden is already working with Nordic NATO Allies and partners on a number of projects in this area. These include a harbor protection system, and a project aimed at enabling fighter jets to share munitions from various sources.
Strategic airlift is another area in which Sweden is making a valuable contribution to capabilities, participating along with Finland and ten NATO Allies in the operation of three C-17 transport aircraft based in Hungary.
Developing interoperable forces
In the coming years, following the completion of ISAF's mission, a greater emphasis on military education and training, including with partners, will be required to maintain the ability of forces to operate together.
Sweden regularly participates in exercises organized by NATO. It's participation in the Partnership for Peace for Peace Planning and Review Process (PARP) provides a planning mechanism that assists Sweden in developing capabilities for both NATO-led and EU-led operations.
Sweden itself makes an important contribution to training the forces of partner countries, particularly in peacekeeping, through the Defence Education Centre SWEDINT, which has been formally recognized by NATO as a Partnership for Peace Training Centre.
Sweden also hosts the Nordic Centre for Gender in Military Operations, which was established in January 2012 to make sure that gender perspectives are integrated into military operations in support UN Security Council Resolution (UNSCR) 1325 and related resolutions on strengthening the role of women, peace and security. This Centre will take the lead on the review of the practical implications of UNSCR 1325 for NATO-led operations. In late 2011, Sweden also provided the first Gender Advisor to work at Allied Command Operations.
More recently, in the context of Nordic defence cooperation, the Swedish government expressed its readiness to contribute to the peacetime preparedness missionover Iceland, along with Finland, as part of a Norwegian deployment in early 2014. This peacetime mission is primarily aimed at promoting training, preparedness and interoperability.
Source: http://www.nato.int/cps/en/natolive/news_93853.htm
Så här kan du stötta Newsvoice