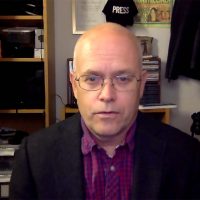 A comment by the Editor: Why do we publish NATO:s response (transcripted by NATO) in NewsVoice? NATO did not ask us to do this. We haven't even asked for permission. We do it because we want to show both sides of the story. Most of us already know the Western perspective on Putin, Russia, and the conflict in Ukraine. It's a 99% negative outlook.
Please feel free to comment and compare this text with the other side of the story, Putin's response. - Torbjorn Sassersson

By NATO Secretary-General Jens Stoltenberg, 24 Feb. 2022
NATO Allies condemn Russia's invasion of Ukraine in the strongest possible terms
Good afternoon.
Russia has attacked Ukraine.
This is a brutal act of war.
Our thoughts are with the brave people of Ukraine.
Sadly, what we have warned against for months has come to pass.
Despite all calls on Russia to change course and tireless efforts to seek a diplomatic solution.
Peace in our continent has been shattered. We now have war in Europe, on a scale and of a type we thought belong to history.
We have just finished an emergency meeting of the North Atlantic Council to discuss the situation.
The Council also addressed the request by Bulgaria, the Czech Republic, Estonia, Latvia, Lithuania, Poland, Romania and Slovakia to hold urgent consultations under Article 4 of the Washington Treaty.
This is a grave moment for the security of Europe.
Russia's unjustified and unprovoked attack on Ukraine is putting countless innocent lives at risk.
With air and missile attacks.
Ground forces and special forces from multiple directions.
Targeting military infrastructure and major urban centres.
This is a deliberate, cold-blooded and long-planned invasion.
Despite its litany of lies, denials, and disinformation,
the Kremlin's intentions are clear for the world to see.
Russia's leaders bear full responsibility for their reckless actions and the lives lost.
NATO Allies condemn Russia's invasion of Ukraine in the strongest possible terms.
This is a blatant violation of international law.
An act of aggression against a sovereign, independent and peaceful country.
And a serious threat to Euro-Atlantic security.
We call on Russia to immediately cease its military action.
Withdraw its forces from Ukraine.
And choose diplomacy.
We fully support Ukraine's sovereignty and territorial integrity.
And Ukraine's right of self-defence.
Russia is using force to try to rewrite history.
And deny Ukraine its free and independent path.
NATO's core task is to protect and defend all Allies.
There must be no room for miscalculation or misunderstanding.
An attack on one will be regarded as an attack on all.
This is our collective security guarantee.
Today, the North Atlantic Council decided to activate our defence plans,
At the request of our top military commander, General Tod Wolters.
This is a prudent and defensive step to protect and shield Allied nations during this crisis.
And it will enable us to deploy capabilities and forces, including the NATO Response Force, to where they are needed.
In response to Russia's massive military build-up,
we have already strengthened our collective defence.
On land, at sea, and in the air.
In the last weeks, Allies from North America and Europe have deployed thousands of more troops to the eastern part of the Alliance.
And placed more on standby.
We have over 100 jets at high alert, protecting our airspace.
And more than 120 Allied ships at sea, from the High North to the Mediterranean.
All this shows that our collective defence commitment Article 5 is ironclad.
And we will continue to do whatever is necessary to shield the Alliance from aggression.
I have called a virtual Summit of NATO leaders tomorrow, to address the way forward.
Russia is now facing severe costs and consequences imposed by the whole international community.
The Kremlin's aim is to re-establish its sphere of influence.
Rip up the global rules that have kept us all safe for decades.
And subvert the values that we hold dear.
This is the new normal for our security.
Peace cannot be taken for granted.
Freedom and democracy are contested by authoritarian regimes.
And strategic competition is on the rise.
We must respond.
With renewed resolve.
And even stronger unity.
North America and Europe, together in NATO.
We are an Alliance of 30 democracies. Standing as one,
We will protect our people and our values.
Democracy will always prevail over autocracy.
Freedom will always prevail over oppression.
And then, I am ready to take your questions.
NATO Spokesperson Oana Lungescu:  Interfax Ukraine.
Irina Somer (Interfax Ukraine): Thank you Oana. Secretary General, we all know that NATO will not fight for Ukraine. But don't you think it's time for NATO to build anti-Hitler sorry, anti-Putin coalition? Thank you.
NATO Secretary General Jens Stoltenberg: NATO stands in solidarity with Ukraine and NATO allies are imposing severe costs on Russia for the reckless invasion of Ukraine.
NATO allies, in close coordination with the European Union and other partners all over the world, are now imposing severe economic sanctions on Russia. To demonstrate that, we follow up on what we said, and that is that it will be a high price for Russia to pay.
NATO allies have also over a long period of time provided support, practical support, military support to Ukraine and helped them to build a much stronger, much better equipped, much better trained armed force today than the Ukraine had in 2014. I would like to recognize the professionalism and the bravery of the Ukrainian men and women in uniform who are now standing up against the Russian invasion.
We continue to stand together, condemning the Russian full-scale invasion of Ukraine and Allies stand together also in sending a message that we will never accept the brutal violation of international law that we see taking place as Russia now invades Ukraine.
NATO Spokesperson: We'll go to Bloomberg.
Natalia Drozdiak (Bloomberg): (Inaudible) Do you have any information that shows that NATO Allies face a direct threat from Russia at the moment, and would NATO reconsider military intervention in Ukraine? Thank you.
NATO Secretary General: NATO is the strongest alliance in history, and make no mistake; we will defend and protect every ally against any attack and every inch of NATO territory. And that's the reason also we have increased our presence in the eastern part of the alliance with thousands of more troops, ships and planes over the last weeks to send a very clear message; an attack on one ally will trigger the response of the whole Alliance. And we do so not to provoke a conflict but to prevent a conflict. What we do is defensive, it's prudent, its measured, but it is necessary, because we see the aggressive actions of Russia against Ukraine, and therefore allies also how to make sure that there is no room for any misunderstanding about that Russia can't do anything like that against a NATO allied country.
NATO Spokesperson: National Public Radio.
Teri Schultz (NPR): Thank you. Teri Schultz with NPR and DW. Mr. Secretary General, in the in the NAC statement, you say that we're deploying additional defensive land and air forces to the eastern part of the Alliance additional maritime assets and increase the readiness of forces. Is this now today, more forces being sent as a result of the fact that the invasion has now happened, or are you there referring to what has already been done as reinforcements? I understand SACEUR will now have the ability to assemble the VJTF without coming back to the NAC for approval. Finally, are you still willing to sit down with President Putin or other representatives of the Russian government after this, or are you suspending your offer to hold talks on other issues and the NATO Russia Council? Thank you.
NATO Secretary General: This invasion does not come as a surprise. We have warned against this for months and sadly what happened this morning during the night was something that allied security and intelligence services have predicted for a long time. We have tried to prevent it by calling Russia to engage in diplomatic efforts, by telling Russia that there will be severe costs or economic sanctions if they invade Ukraine further. But what happened over the last hours demonstrates that Russia, despite our diplomatic efforts and despite our clear messages of economic sanctions, decided to once again invade Ukraine.
But since we have been warning against this for a long period of time, we are also taking prudent measures to prepare ourselves. That is the reason why we, over the last months and weeks, have significantly increased the presence of NATO troops in the eastern part of the Alliance. More land troops, ground forces, but also air and naval forces. In the coming days and weeks, they will come even more.
We will further increase, and we are increasing, our presence in the Eastern part of the Alliance and today we activated NATO's defence plans that gives our military commanders more authority to move forces and to deploy forces when needed, and of course this could also be elements of the NATO Response Force. So we are ready, we are adjusting our posture, but what we do is defensive, is measured and we do not seek confrontation. We want to prevent a conflict and any attack against any NATO allied country.
(Inaudible follow up question from reporter)
Well, we have reached out to Russia for weeks and months and what we have seen is that the Russian message has been that they actually have never taken these talks seriously. Because while we were trying to find a political solution, they were planning for this invasion. While we were trying to find a political solution, they were actually day by day, week by week, increasing their military presence and readiness on the borders of Ukraine, and now the launched invasion. Russia has shut the door to a political solution. We regret that, but that's sadly the reality, which has severe and very serious consequences for the people of Ukraine, but also actually impacts the security for all of us. And that's the reason why we step up our presence in eastern part of the Alliance.
NATO Spokesperson: FAZ.
Thomas Gutschker (FAZ): Thanks a lot for taking the question. Secretary General, I have actually two questions. The first one I'd like to hear your reaction to what President Putin said this morning when he announced the military operations. He said that any country that interferes with them would face consequences greater than you have seen in your history, which I take as a veiled threat with a nuclear attack. So please, what is your response to that? He did not specify what interference means. And the second question, very simple; can the NATO Russia Founding Act be upheld under these circumstances? Thank you.
NATO Secretary General: The threatening rhetoric by President Putin and the aggressive actions by Russia, of course is the reason why we are saying that we're now faced with a new normal for our security.
We need to consult closely all allies, and we will also do that tomorrow when the leaders meet at the virtual Summit. What does this mean for our longer-term relationship with Russia? How shall we continue to defend and protect Allies in this new security reality? How can we make sure that we uphold the values we believe in; freedom, democracy, faced with a more aggressive authoritarian regime in Moscow? A regime which is willing to openly contest our values and to threat and actually also to use force to try to coerce other nations. This will have some long term effects on our security, on how we respond, on how NATO is reacting and also on how our relationship with Russia can evolve.
We don't have all the answers today, but there will be a new reality, it will be in New Europe after the invasion we saw today. Therefore I welcome the fact that we are so closely coordinating, so closely working together in NATO. We stood together in warning against the Russian aggression, the plans, we stood together in reaching out to Russia and tried to prevent the attack and now we need to stand together in responding to the attack and that's exactly what we are doing. That was the first question the second question?
(Inaudible question from reporter).
Well, that's part of this new reality we have to look into, and there will be a different reality and we need to respond but this is not the day to draw the conclusions. We will have an important discussion among leaders tomorrow.
NATO Spokesperson: NRK.
Simen Ekern (NRK): Thank you for the question. Mr. Secretary General, today Ukraine has called on Turkey to close the Bosporus and the Dardanelles straits for Russian vessels, is that an action that was discussed in this morning's meeting and are there other similar actions that have been discussed today?
NATO Secretary General: That was not discussed in the meeting today. Turkey is of course a NATO ally, Turkey has a special role when it comes to the Bosporus straits. But this was not an issue in the meeting this morning.
What we discussed this morning was the need to activate the defence plans. We made the decision to activate those plans, which enables to move forces more quickly, to where they are needed. And also to agree a statement where we express a very strong condemnation of the Russian invasion of Ukraine, and also announced that we are going to have a virtual NATO summit tomorrow.
NATO Spokesperson: Wall Street Journal.
Dan Michaels (The Wall Street Journal): Could you talk a little bit more about the activation of the defence plan? What exactly does this change? And when was the last time this was done? Thank you.
NATO Secretary General: These plans are plans we have developed over the years to make sure that we have plans in place to react to crisis like the crisis we are faced with now. They are defensive plans. They are prudent plans and they are plans that covers the whole east of our Alliance; from the Bering Sea down to the Mediterranean and they give our military commanders some more authorities within politically defined guidelines and frameworks to deploy forces where they deem it needed and that's exactly what we have agreed today. These again are defensive plans, ensuring that we have forces at sufficient readiness at the right places throughout Europe.
NATO Spokesperson: Associated Press.
WSJ reporter intervenes with a follow up question: Have they ever been activated before?
I don't know whether it's right for me to answer that question, because I don't know whether it has been made public before, so I only said that we activated them today.
NATO Spokesperson: Associated Press.
Mark Carlson (Associated Press): Is the NATO Response Force inside Ukraine right now?
NATO Secretary General: No, there are no NATO combat troops inside Ukraine at all. We have made it clear that we do not have any plans and intentional deploying NATO troops to Ukraine. What we have made clear is that we have already increased and we are increasing the presence of NATO troops in the Eastern part of the Alliance on NATO territory.
Ukraine is a highly valued partner. We have supported Ukraine for many, many years. We helped them to build a more modern capable armed force. Militarily, we have helped them to train equip, and in many different ways to strengthen their armed forces. We helped them with cyber defences with NATO Allies in different ways. But we don't have NATO troops in Ukraine, and we don't have any plans to send NATO troops into Ukraine. But we are there to protect and defend all NATO Allies. So we support Ukraine. We provide absolute security guarantees for NATO Allies. And we demonstrate that commitment by increasing the presence in the Eastern part of the Alliance.
NATO Spokesperson: We will try to take a couple of questions online before we come back to the Press Room. We will go to Steven Erlanger from New York Times.
Steven Erlanger (New York Times): spill over Thank you, Secretary General, two quick questions. One, does NATO still have military deconfliction contacts with Russian forces today, are those ongoing? And secondly, a lot of NATO countries are going to want to keep supplying weapons to Ukraine. Do you foresee this as a major risk of a NATO-Russia conflict? And where else do you see risk of conflict now between Russia and NATO countries that could spill over into something worse? Thank you, Sir.
NATO Secretary General: We have increased the presence in Eastern part of the Alliance and we have activated NATO defence plans today to make sure that we do not see any spill over to NATO territory. Because as long as Russia knows that an attack on a NATO Ally will trigger a response from the whole Alliance, they will not attack because we are the strongest Alliance in history and as long as we stand together and make clear that we are committed by our collective defence commitments. That is the best way to prevent any attack, any spill over from the tragedy, the heinous attack we see in Ukraine, a spill over onto any NATO Allied country.
NATO Allies have provided support to Ukraine in many different ways over the last years. Especially since 2014, NATO has helped them with cyber defences, we have also helped them with some different trust funds, with different activities and then on top of that, with different capacity building measures to help them to strengthen, including their naval forces and other elements of their armed forces. But then on top of what NATO has done, as an Alliance, NATO Allies have also provided military equipment, including defensive weapons and other types of support and training. It will be a national decision in what way Allies continue to provide support. So that is for individual NATO Allies to decide. Deconfliction is extremely important for us. There has been contacts between our military commanders and Russia. We will continue to reach out to them to make sure that we do everything we can to ensure deconfliction.
NATO Spokesperson: We will next go to Helsingin Sanomat - Teija Sutinen.
Teija Sutinen (Helsingin Sanomat): Yes, this is Teija Sutinen from the newspaper Helsingin Sanomat. What is your message to the Partnership countries Finland and Sweden in the situation? At least in Finland, this discussion about the possible NATO membership, is this realistic during a crisis? Thank you.
NATO Secretary General: Finland and Sweden are very close partners and I have taken careful note of the very clear message, both from Finland and Sweden. That even though they don't apply for membership now, they strongly believe that NATO should not sign any kind of agreement with Russia, based on what Russia has proposed for us to sign a legally binding agreement ending any enlargement of NATO in the future. So I have seen that Sweden and Finland state that for them this is a question of self-determination and the sovereign right to choose your own path and then potentially in the future, also to apply for NATO membership.
So for me, the very clear messages from Finland or Sweden just has underpinned how important it is that NATO Allies do not compromise on core values, including the right for every nation to choose its own path, meaning whether it wants to belong to NATO or not belong to NATO. NATO respects those decisions regardless if it's yes or no to joining NATO.
We very much value the close partnership with Finland and Sweden. It is important for NATO, it is important for Finland and Sweden. I visited Finland and Sweden this fall, together with the North Atlantic Council and we see how closely we work together, exercise together, increase our ability to operate together for interoperability, and we have very close political consultations. Therefore, I have invited Sweden and Finland to the virtual NATO Summit tomorrow. At the NATO Summit tomorrow, we will have Sweden and Finland, and the two EU presidents present showing in a way, the very strong unity with demonstration of transatlantic NATO and also our close partnership with EU, Finland and Sweden.
NATO Spokesperson: We will go to Polish Radio.
Beata Płomecka (Polish Radio): If I may, a follow up question to Terry's question; when exactly these high readiness element of the NATO Response Force may be deployed? Is that up to the leaders if you conveyed the summit for tomorrow, thank you.
NATO Secretary General: First of all, we have already deployed thousands of troops. For instance to Poland there are more US forces, there are more forces from the United Kingdom and there are also other nations deploying more forces to Poland and also to other countries in the eastern part of the Alliance. More ships in the Baltic Sea and more planes conducting air policing and protecting our airspace. So, this is going on and there will be more forces in the east of the Alliance over the next days and weeks. This could include elements of the NATO Response Force, but the most important thing is not exactly which elements or which forces, but the most important thing for Poland and for the other allies in Eastern part of the Alliance, is that there are more NATO forces in the East and there is and there will be even more NATO forces in the East in the coming days and weeks.
NATO Spokesperson: Final question to TV2.
Elin Sørsdahl (TV2 Norway): Thank you for the question. Secretary General, you have received apparently very good intelligence in recent weeks, you have shared it, you have been open about it. Do you have any information of the Russian plans ahead?
NATO Secretary General: Our intelligence has been very precise because it has predicted the over now several months the military buildup, but also the intentions, the plans for Russia to attack Ukraine. But of course those plans could always be changed and we continue to call on Russia to change this course and to not attack. And then you saw this morning that they attacked. That was no surprise because that was exactly what our intelligence services have predicted over several months. We have shared that intelligence to mainly try to prevent Russia from attacking. We have shared intelligence not only about the military buildup, but also about all the different attempts by Russia to create a pretext, staged situations that they can use as an excuse. These absolutely false claims of genocide against Russians or the alleged sabotage actions inside Russia and so on. It is false. It is staged. But we expose those attempts because we hoped that that could reduce the risk of a military invasion.
We have seen that they have sticked to their plans, they have done as they actually planned for a long time ago. And we need to understand that throughout all these weeks and months, when they said that they had no plans of invading Ukraine, they had plans and they were not only having plans but they actually built up all these forces with one clear aim and that was to invade Ukraine. And despite that, they were telling us, and the world and the public, that we have no plans to invade Ukraine. Yes, they had plans and now we are seeing that actually they were serious about invading Ukraine all the time. Never serious about really engaging in diplomatic efforts.
What we see now is a full-fledged invasion of Ukraine from many multiple directions. We see air, land and naval forces taking part in those attacks. It's too early, we don't have a full damage assessment yet, but this is extremely serious. It's an attack on a peaceful, sovereign, independent nation. It is a war of a type and a scale that we actually thought was part of history in Europe, but now it's back in real and it's imposing enormous suffering on innocent people in Ukraine.
NATO Spokesperson:  Thank you very much. This concludes this press conference. Thank you